Milton Keynes awarded city status to mark
Queen's Platinum Jubilee
Buckinghamshire Gardens Trust congratulates the City of Milton Keynes on being granted city status and being Buckinghamshire's first city as confirmed by the Government as part of the Queen's Platinum Jubilee celebrations.
If you search the Trust's website besides the many articles about the Milton Keynes landscape, you will find 14 specific Research and Recording reports from the Locally Important list. This list includes Campbell Park which was added to the Register of Nationally Important Sites in August 2020 by English Heritage.  https://bucksgardenstrust.org.uk/?s=Milton+Keynes
Did you know that Milton Keynes is the largest settlement in Buckinghamshire, 50 miles (80 km) northwest of London? At the 2011 Census, the population of its urban area was almost 230,000. The River Great Ouse forms its northern boundary; and a tributary, the River Ouzel, meanders through its linear parks and balancing lakes. There are 400 acres of lakes including Willen Lake and Caldecotte Lake and approximately 25% of the urban area is parkland and woodland and includes two Sites of Special Scientific Interest (SSSI). The result is no one in Milton Keynes lives more than half a mile from a park. The City of Milton Keynes includes 27 conservation areas, 50 scheduled monuments, 1,100 listed buildings and 270 pieces of public art. It has 84,500 citizens who are volunteers and the town also claims to have a higher number of volunteers per head of population than any other UK city. The Open University was established in 1969 and is the largest in the world. More than 22 million trees have been planted and there are more to come.
https://www.milton-keynes.gov.uk/  Read the bid.
https://www.destinationmiltonkeynes.co.uk/our-story/101-facts-about-mk/
https://en.wikipedia.org/wiki/Milton_Keynes
1
---
Chair's Letter
Dear Members,
Since taking over as Chair of Buckinghamshire Gardens Trust at last October's AGM, I have been thinking about where and when we should hold future Annual General Meetings. For several years David Gladstone kindly invited us to Wotton House, then during the pandemic we first held a virtual version and 2021 opted for St Mary's Church in Aylesbury, followed by an interesting talk from Richard Wheeler. For 2022 I decided that we should go for a date earlier in the year so that we can combine the meeting with a walk around a designed landscape and that we should look for suitable venues in different parts of the county for other years. If you have any suggestions do let me know.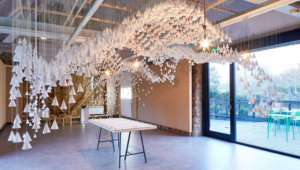 Therefore, this year we shall be holding our AGM in Milton Keynes, at the Arts Centre which is located on the edge of Great Linford Manor Park, on Saturday 13 August at 2pm. Following the meeting, we will be providing tea/coffee and cake, before setting off on our walk at 3pm. The walk will be led by Council member Ellie Broad of the Parks Trust to see the progress on work to restore the pleasure grounds. You may like to bring a picnic lunch and make a day of your visit. There is no charge for this event, but a suggested donation of £5 on the day towards the cost would be most appreciated. However, it is important to book for the event (via TicketSource) so that we know how many people to cater for. Non-members are also welcome, but cannot vote at the AGM.
Great Linford Manor Park is a special and wonderful place to visit, with a history that can be traced back at least to the Saxon times. Many of its features, for example, the Water Gardens and nearby Wilderness Garden, date from the 17th and 18th centuries, when the park was laid out to provide the setting for the impressive Manor House (a private property) that still provides the main focal point in the park today.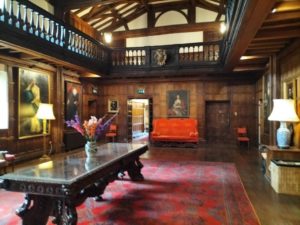 I would also like to remind you to book your tickets for our 25th Anniversary grand party and celebratory lunch at Hampden Hall on Thursday 13 October; I know that it still seems a long way off, but things have a habit of creeping up on us. We would be grateful for a better idea of numbers by the end of August – please don't leave the booking until a week before because we will need to let our caterer know the final arrangements. Again, friends and family are welcome to join us for what promises to be a great celebration of the last 25 years!
Thank you for your continuing support and hope to see you all soon.
Claire
2
---
Contents
City of Milton Keynes   1
Letter from the Chair  – Claire de Carle   2
Contents of Newsletter   3
Profile of Bucks GT Honorary Secretary, Kathy Jackson    4
Barry Clayton, architect and Soane Scholar – Claire de Carle   5
Research and Recording: Update – Claire de Carle 6
The Bicycle Boys: An online exhibition launching this June – RH & The Gardens Trust   7
 New research and Recording Dossiers – 8
Planning Report – Jo Mirzoeff   9
25th Anniversary Reviews by Roving Reporters:
Circular Tree Walk in Buckingham led by Michael Hunt on 22nd April 2022 – John Walton   10
Garden Visit: Chenies Manor, Rickmansworth, Tuesday 26th April – Sheila Meekum   11
Walk: Willen Lake North, City of Milton Keynes, Wednesday 4th May – Clare Butler  12
Garden Visit: Tythrop Park, Kingsey, Thursday 12th May – Kathy Jackson   13
Ghosts and Graves – Brian Hoare   14
A Paradise in Palermo – Sarah Gray   15
News and Snippets 16
 3
---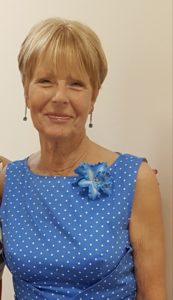 Profile of Honorary Secretary, Kathy Jackson
While I've always enjoyed pottering for fun in my own gardens over the years, my career was in social work and then teaching. It wasn't until I retired some six years ago that I started to look for a hobby or interest in something completely different.
As a member of the National Trust and with Stowe Landscape Gardens almost on my doorstep, I took on the role of visitor welcome volunteer. That then turned into something much bigger! I began to really apply my learning to Stowe's beginnings and ongoing developments and indeed Georgian history generally. It was inevitable that my next role would be that of a tour guide. It was shortly after this point of my emerging new 'career' that I met both Sarah Rutherford and Rosemary Jury who came to Stowe to give the volunteers a talk on the work of the Buckinghamshire Gardens Trust. I was so interested I stayed chatting with them and the next thing I knew I was on a Research and Recording training day!
From that day about four years ago my knowledge has grown and while my research skills are still in their infancy, I am enjoying every minute – well, except for one memorable event. One day, while researching Chandos Park in Buckingham, my research colleague and I were walking towards a rear entrance to the park when two large white geese came walking towards us, slowly initially but as we moved backward, they picked up speed and started to chase us. I turned and ran across the road causing a traffic hold-up while watching drivers sit there laughing. My colleague had sensibly run off in the opposite direction. Eventually, the geese gave up and returned to their posts, having done their job as security officers. It is funny looking back but wasn't at the time.
At the beginning of this year, I took on the role of the BGT Council Secretary, becoming more involved in the work.
I do enjoy exploring the parks and gardens and the social opportunities BGT offers, keeping me fit in mind and body. Our 25th Anniversary events this year, in particular, are a wonderful opportunity to find out more about our beautiful Buckinghamshire.
4
---
Barry Clayton, architect and Soane scholar
We learned this week the sad news that Barry Clayton, who lived in Sir John Soane's gatehouse at Tyringham Park, has died at the age of 87. Back in 2017 I was fortunate to have the pleasure of meeting Barry at his home. Clare Butler and I were researching Humphry Repton and we were interested to find out about his involvement, if any, in the design of the landscape at Tyringham, and we approached Barry for his thoughts on the matter. The only reason we think Repton was involved is that he mentioned it himself in one of his books, in passing.
William Praed commissioned Sir John Soane to build a new house at Tyringham in 1793. Soane patronised the landscape gardener John Haverfield and he worked closely with Soane at Tyringham. Repton's link is rather tenuous – he was working at neighbouring Gayhurst and nearby Hanslope at around this time. However, no 'Red Book' exists and unfortunately, Haverfield's plans have also been lost. In the unlikely event that anything was carried out on Repton's advice, it may have been the unusual eight-sided brick-walled kitchen garden: Repton had used this design at Herriard (Hants) and Shrubland (Suffolk). It is also possible that the walled garden predates this time and Soane/Haverfield decided not to replace it. The landscape at Tyringham certainly has 'borrowed views' to the higher ground at Gayhurst on the opposite bank of the River Ouse, but this does not prove anything.
We had a fascinating lengthy discussion with Barry; however in conclusion he wrote in a letter to me the following: "Unfortunately, our discussion did not solve the interminable puzzle of Repton's possible association with the landscape at Tyringham. Until and unless the elusive 'Red Book' or unequivocal documentation is found this issue will forever remain an enigma."
Before we left Barry showed us around his home and introduced us to his wife Tatiana. He had spent many years restoring and modernising the gatehouse, in keeping with Soane's style. Unfortunately, there was no way of addressing the fact that it was a home of two halves and that you had to make a quick dash from the living accommodation to the bedroom across the road!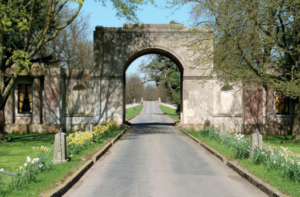 Barry lived in Buckinghamshire for much of his life, including at Harleyford Manor at Great Marlow as well as Tyringham. He was Chairman of the former Pell Wall Preservation Trust. During his career he practised with Sir Hugh Casson (Casson & Conder, London), Prof. Aarno Ruusuvuori (Helsinki), Sir Leslie Martin (Cambridge), Ryder & Yates (Newcastle) and Milton Keynes Development Corporation; then in private practice working in historic restoration.
For more information on Repton see the Buckinghamshire Gardens Trust publication: Humphry Repton in Buckinghamshire and Beyond: https://bucksgardenstrust.org.uk/campaigns/humphry-repton-our-new-book/
Claire de Carle
5
---
Research & Recording

 The Research and Recording project continues to tick over efficiently, thanks to the support of our dedicated group of volunteers. We keep in touch at our regular update meetings via Zoom.
Unfortunately, we are having difficulties accessing the Buckinghamshire Archives, as they have cut staffing levels drastically. This means that researchers need to identify documents from their catalogue and staff are unable to carry out searches for uncatalogued items; the map tables are also booked up well in advance.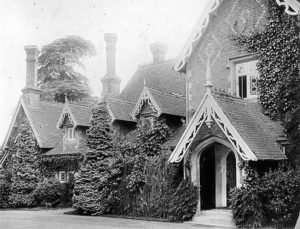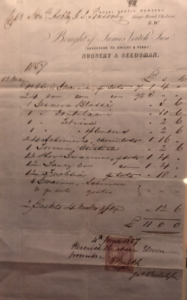 We have welcomed two new volunteers: Louise Keil, who recently completed a Masters degree in Garden History, and Catherine Youd, who is currently studying for a Masters at the University of Buckingham. Louise wrote an article for our last newsletter on Henry Lane's nursery in Berkhamsted (if you have not read it, it is in our Spring 2022 issue). We also welcomed Francesca Murray to our last meeting; she is currently researching for her PhD and has an interest in Bucks nurseries and nurserymen. She has some useful contacts to help the volunteers and we hope to find time to research some of our nurseries in the future. If anyone has any information about nursery businesses that have now gone or would like to get involved in this research, please contact us.
In the meantime, the volunteers are continuing to work on the remaining sites on the Historic Register Review. Many of these are smaller and we are trying to group them for research purposes, and this, along with a simpler method of reporting, should speed up the process. Julia Wise continues to let us know about sites that are threatened and she is also adding all the sites we have previously researched to the Bucks Local List (https://local-heritage-list.org.uk/buckinghamshire).
As the volunteers continue to work mainly from home, we are not incurring many expenses, so we still have sufficient funds remaining. I would also like to thank the members who have very kindly made donations towards our research this year.
Claire de Carle
6
---
The Bicycle Boys: An online exhibition launching this June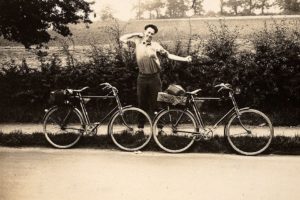 Image: Sam Brewster with bikes taken by Loyal Johnson, 18 August 1928. Credit: RHS Lindley Collections
Bucks Gardens Trust is delighted to be taking part in 'The Bicycle Boys', an exciting collaboration between the Gardens Trust and the RHS.
In 1928, two young Americans embarked on an epic journey to explore Britain's best gardens by bike. In just 3 months, Loyal Johnson and his friend Sam Brewster cycled more than 1500 miles and visited over 80 gardens across the UK. They left behind a wonderfully detailed travel journal, which Loyal's son donated to the RHS Lindley Library in 2015. Loyal's diary provides a fascinating snapshot of British culture and British gardens in the 1920s.
We are one of 14 County Gardens Trusts across the UK to have been following in the footsteps (or cycle tracks) of Loyal and Sam. We have been researching Gayhurst and Dropmore, two of the many gardens that Loyal and Sam visited over the summer of 1928. Our findings will feature alongside those of other County Gardens Trusts in a new online exhibition: 'The Bicycle Boys: An Unforgettable Garden Tour', which will launch on the RHS Libraries website on 8 June 2022. More information here.
The project forms part of the Gardens Trust's Unforgettable Gardens campaign to raise awareness of the value of local parks and gardens and the importance of protecting them for our future.
The Gardens Trust & RHS
7
---
New Research and Recording Dossiers
The latest Research and Recording site dossiers to be completed and uploaded to the BGT website are:
Beachampton Hall: a well preserved and complex garden of a C16th and later manor house;
Priestfield Arboretum: a little-known gem of a tree collection near Great Missenden (visit coming in the autumn);
Tile House, Lillingstone Dayrell: the gardens and park of an 1880s country house, incorporating part of Whittlewood medieval forest;
Wolverton Park: the remaining part of a Victorian company sports ground.
Find them at https://bucksgardenstrust.org.uk/research-and-recording/locally-important-sites/
8
---
Planning Update
Planning applications are filtered through to us by the Gardens Trust offices in London. They receive in excess of 50 applications every week across the country and, despite their total commitment to their work and their boundless expertise, they simply do not have the capacity or the local knowledge to deal with each individual application. That's where the county gardens trust steps in and, as ever, the planning team here at the Bucks Gardens Trust is kept on our toes with the high number of applications with approximately 25 applications from across the county to review during this quarter.
A number of applications have returned for a second (or more) time, either due to minor tweaks to suit the applicant, or where comments made by the Gardens Trust or the planning authority have required revisions to be made. We were recently invited to two significant sites with regard to revisions to plans that both sites were developing in early 2021. It is always helpful when applicants are willing to meet with us and (on most occasions) take on board our comments when revising their plans.
Also at Dropmore, we were pleased to see an application for the restoration of Oak Lodge which sits at one of the former entrances, and, at Cliveden, it was encouraging to see final proposals for the refurbishment of the conservatory which is used as a café. Other good proposals were for the refurbishment of the car park and existing buildings to create a shop in the Walled Garden at Berry Hill. When we respond to such applications, we may still have concerns about the proposals or the future impact on the registered park and garden but we do offer our encouragement for applications that have clearly been developed with thought for the protection, preservation, and (ideally) a sustainable future for the site.
Sustainability in a world of climate change is a constant concern to anyone working in the heritage industry and, of course, we do our utmost to encourage and support projects to achieve this where possible. However, this goal has to be balanced alongside the conservation of historic sites. We recently objected to an application to install 100 solar panels (for private residential use) adjacent to a Grade I listed property near Stoke Park. The proposed works would have had a damaging impact on the Grade II Registered Park and Garden for Stoke Park and the Grade I registered Stoke Poges Gardens of Remembrance along with a number of other designated heritage assets. The Gardens Trust was not the only heritage body to object and we were relieved to see the application refused by the Local Planning Authority. We genuinely hope that the applicant can explore other renewable technologies to find a solution that works for them whilst protecting the incredible setting of their home.
Finally, we always welcome property owners who recognise the potential significance of their garden and, despite the protections afforded by the listing process, not all gardens have been properly researched or assessed. In some instances, it is vital to commission a full historic assessment of the site but, in other cases, a quick informal view is adequate.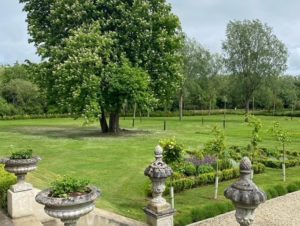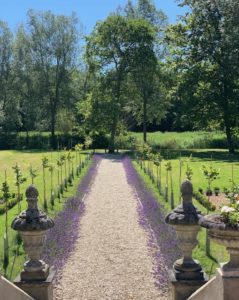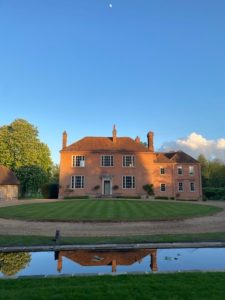 We were recently invited to a site visit at the Old Vicarage in Little Marlow which is not a registered park and garden. The local planning authority was keen to establish whether the garden did include any significant features and the owners were happy to follow this approach. Ordnance Survey maps suggested that the site had changed little since the late 18th century and this was confirmed during the site visit. So, whilst we could not ascertain any historic features that would require special protection, it was a pleasure to be able to visit, to confirm our historic understanding of the site and to meet the owners who are making their own special garden for their family.
Jo Mirzoeff
9
---
25th Anniversary Events, Reviews from our Roving Reporters
Circular Tree Walk in Buckingham led by Michael Hunt on 22nd April 2022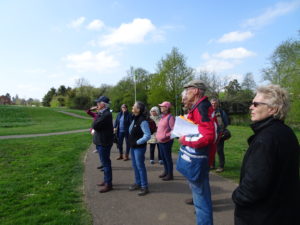 Twelve of us met by the footbridge in Buckingham town car park. We set off across the bridge to start our circular walk in an open green space where a large number of young trees had recently been planted and Michael gave us the Latin and common names. Sadly I was not equipped to take notes and my memory is not that good these days so Michael has supplied the extra information.
Several of the trees were varieties of flowering cherry Prunus Kiku-Shidare and the fabulous Prunus Shirotae. Many had stories attached about their discovery and introduction to the United Kingdom. I do recall that one, Prunus Tai-Haku, had become extinct in its native Japan but a specimen was found in Kent in 1923 and it was reintroduced back into Japan in 1932. Michael not only pointed out and named all these recent plantings of 2018 but spoke about the difficulty in getting them established in a drought year.
From this area, adjacent to the car park, we walked passed the site of the old swimming pool and a Quercus cerris, Turkey Oak, and Thuja plicata, Western Red Cedar. Then across Bridge Street into Ford Street leading us to Chandos Park and cheating somewhat by looking at the trees in people's gardens that backed onto the river, one being Arbutus unedo, the Strawberry Tree. The fascinating Latin translation of 'unedo' means 'I eat one only', as the strawberry-like fruits of the tree are not palatable. As we neared the tennis courts end of Chandos Park, Michael indicated trees that had had a 'haircut', i.e. they had had their crowns reduced for safety reasons, mainly the large Salix sepulcralis chrysocoma, the Weeping Golden Willow, which had two years' new growth by now and like the other pollards was looking very healthy.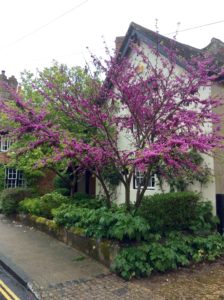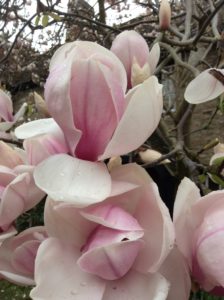 We crossed another bridge and entered Buckingham University grounds at Tanlaw Mill. Again, Michael was able to point out not only the trees but also the attractive flower and shrub beds in the area as we made our way to Hunter Street and into the old churchyard. There were some lovely mature trees in this area, some of which had been deliberately planted as 'mourning trees', for example the huge specimen of Tilia tormentosa petiolaris, the Weeping Silver Lime. Along Church Street we passed Ondaatje Hall with a Judas Tree and Magnolia x soulangeana, the Saucer Magnolia, in full bloom. The story is that the magnolia was raised by Etienne Soulange-Boudin, a Napoleonic soldier who had admired the botanical collections in Vienna, Stuttgart and Moscow and grew this one.
We continued along Church Street to the current churchyard, passing lovely mature trees and appreciating good views over Buckingham. As we passed Hill House it had the unusual Sophora tetraptera, otherwise known as Kowhai, from New Zealand in its garden. Then it was on to Elm Street and the Elm tree on the corner. This fine example was Ulmus 'New Horizon', one of the disease-resistant trees that are part of the Dutch Elm programme of breeding hybrids. Michael told us about the work being done to breed and introduce the disease-free elms, some of which are being planted to conserve the rare butterfly Strymonidia W-Album, the White-Letter Hairstreak, whose life cycle depends on Ulmus species.
Finally, to complete the circle it was over the footbridge by the Woolpack pub and into Ford Street, past the site of the old swimming pool and into the car park. A final thank you and round of applause to Michael for an excellent walk and talk.
John Walton
10
---
Garden Visit: Chenies Manor, Rickmansworth, Tuesday 26th April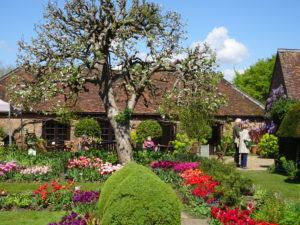 Located on a south-facing slope overlooking the Chess Valley, Chenies Manor House makes a dramatic backdrop for its beautiful gardens.
Beside an old Bramley apple tree, crowned with mistletoe, Charles MacLeod Matthews, the present owner, introduced the fascinating history of the estate. From its creation in the 1500s to the present, Chenies has seen both sad decline and recent restoration. Before they moved to Woburn, Chenies was the home of the Dukes of Bedford and the nearby church of St Michael's holds the Russell family memorial chapel. Formerly visited by Tudor royalty: Henry VIII and his fifth wife Catherine Howard, and later by Queen Elizabeth I, who lost a piece of jewellery under its ancient oak, Chenies now hosts weddings and film crews. We were treated to a tour of the historic house before exploring the award-winning gardens.
The highlight of our visit was the sunken garden with its dazzling display of tulips planted in groups of co-ordinating colours. Designed by Mrs Boo Macleod Matthews, this featured many different forms of the flower in shades of rich pinks and deep purples and included varieties such as Merlot, Time Out, National Velvet and Finola. These are set among dark-leaved perennials and neat grassed areas around a little pond.
A complete contrast to the sunken garden, the White Garden is much more restrained. Beautifully trimmed topiary shows off the perfect blooms of the pristine tulips. We also saw the south-facing flower bed which features groups of tulips in hot colours complementing the terracotta tones of the Tudor brickwork along this windowless wall. They were apparently bricked up to prevent the spread of disease-carrying air from the direction of London. The bulbs are obtained from Rose Cottage Plants.
The garden also features a wonderful herb garden with clearly labelled plants grouped according to their uses.
We were very fortunate with the weather and the tulips were at their best. I enjoyed it so much I went back a few days later.
Sheila Meekums
11
---
Walk: Willen Lake North, City of Milton Keynes, Wednesday 4th May
It's quite hard to do justice to the 4th May BGT walk at North Willen Lake in 500 words. Tim Skelton, a surveyor who worked for Milton Keynes Development Corporation, and Chair of Milton Keynes Forum, aided and abetted by Pete Martin, local architect who also worked for MKDC, led 15 people around this spectacular site.
One-fifth of MK, 6000 acres, is open space managed by the Parks Trust. It's the greenest city in the UK by a long way, and looking out from the Sky Room at MK Gallery you wouldn't know that it contained any houses at all. Willen Lake is the largest and most popular of several balancing lakes across MK designed to avoid flooding. The South Lake is reserved for water-based activities while the quiet North Lake has recorded over 200 bird species. Incredibly, the undulating surrounding landscape is entirely man-made from the excavation of the lakes and nearby roadways.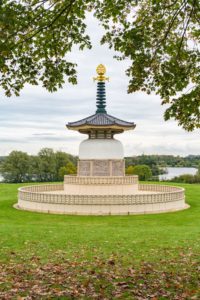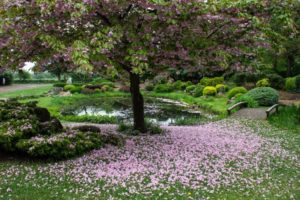 It can be seen as a modern sacred landscape. The famous Peace Pagoda, the first in the West, is a 'stupa' dome featuring traditional carved stone panels depicting the life of Buddha under a 'parasol' roof, on a hillside commanding views of the lake and beyond. The site is encircled by 1000 cherry and cedar trees. Tucked behind the Pagoda is the temple and community (Sangha) of the Nipponzan Myohoji Buddhist order of monks. Heralded by a granite sculpture 'Hiroshima Departed' by Ronald Rae, in front is a beautiful miniature Japanese garden, spectacular with cherry blossom on our visit, while behind is a Zen garden.
Nearby is the 'Circle of Hearts' or 'Medicine Wheel', a stone circle designed and initiated by Roy Littlesun, the adopted son of a Native American elder which can be used by individuals and groups for meditation, celebration, and prayer. The Wheel is made up of 108 limestone blocks from Weston Underwood arranged in symbolic outer and inner circles, and has four gateways representing the four compass points, the seasons, and the four elements. It sits on an alignment from Midsummer Boulevard through the Belvedere in Campbell Park and the Tree Cathedral at Newlands to the island in North Willen Lake.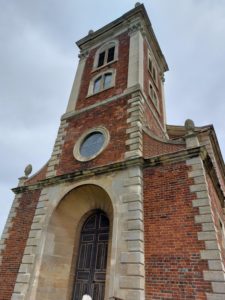 The walk then took us past Willen Hospice overlooking the lake and into Willen Village where, approached via an avenue of lime trees, is the remarkable Baroque Church of St Mary Magdalene. Completed in 1680, it is the only surviving church designed by the eminent scientist, inventor and architect Robert Hooke.
The final stretch of the walk overlooked Willen Labyrinth, a turf maze. At its centre is an oak tree and in each of the four lobes is a bronze face designed by sculptor Tim Minett. The site was originally intended as an arena, which would have disturbed the tranquillity of the area somewhat, but this plan was fortunately superseded by the MK Bowl on the far side of the city.
Many thanks to Tim and Pete for such an informative walk. For more detail, BGT Research and Recording volunteers have produced a Site Dossier: https://bucksgardenstrust.org.uk/wp-content/uploads/2019/01/Willen_Lakes-Milton_Keynes.pdf
Clare Butler
12
---
Garden Visit: Tythrop Park, Kingsey, Thursday 12th May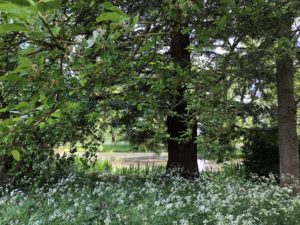 On a beautiful sunny afternoon, 40 members and friends of BGT were met by Head Gardener, Phil Kusmishko, who led us on our tour of the 10 acres of the spring gardens of Tythrop House.
The house, a Grade I listed 17th-century manor house, was originally owned by the Herbert family who continued to alter and add to the building over the years. In the early part of the 20th century, it became the property of Magdalen College, Cambridge, then in the late 1930s, it sheltered Japanese children and was eventually requisitioned by the army. Plans to demolish the house after WWII were thwarted by the Cotton family who began work on the gardens.
The present owners, Nicholas Wheeler (Charles Tyrwhitt Shirt Company) and his wife, Chrissie Rucker (The White Company) bought Tythrop Park in 2007 and moved in with their children after considerable renovation.
Phil first led us to the very large pond which was created in 2011. It is surrounded by large trees creating a tranquil setting. The pond had to be lined with a butyl liner as the earth was claggy clay and Phil described how every member of staff rallied round to lay this immense liner. The planting around the edges includes Iris, Astilbe, Darmera peltata and Ligularia together with aquatics such as water lilies, Golden club (Orontium aquaticum) and Equesetium hyemale.
Areas of wild planting could be seen with bright yellow buttercups predominant as we made our way towards a manicured lawn at the back of the house and through an immaculate box hedge parterre. Then on between herbaceous borders to the front of the house, which had been redesigned in 2013. The planting on both sides of this impressive entrance is mainly white roses, although not yet in bloom. Last autumn over a thousand white tulip and hyacinth bulbs were planted but unfortunately, only a few came up – squirrels perhaps, Phil thought. We were to see much evidence of white planting such as Sweet Rocket and white Forget-me-nots throughout the gardens – a theme reflecting the owner's White Company principles.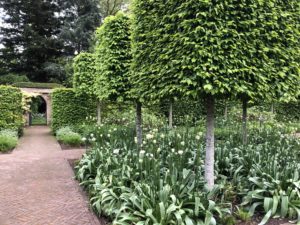 We eventually came to the swimming pool and large pool house. A contemporary design that nonetheless complements the gardens. The large terraced area by the pool is surrounded by more formal planting with boxed Hornbeams in square beds underplanted with Allium Mount Everest and Orlaya grandiflora – which when in flower will provide a stunning display of white and the palest of greens. The beds around the adjacent lawn are planted with more white Sweet Rocket and Forget-me-nots together with Brunnera, Euphorbias, and Alliums. Tea was served on the terrace where we could relax by the pool and savour our surroundings as well as the delicious cake.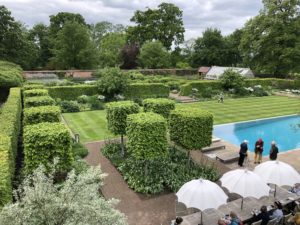 From the pool house, we wandered freely through more herbaceous planting into the large walled garden, designed by Robert Myers, the landscape architect. We were greeted with an impressive array of fruit and vegetables all set out in beds surrounded by low Box hedging. Every bed was labelled with the name of the crops within. One long south-facing wall was covered with fig tree espaliers with the very early buds of figs just showing.
We eventually rejoined Phil who led us around the edge of the garden back towards the car park. This had been such a perfect visit to a beautifully designed garden, we were reluctant to leave.
Kathy Jackson
13
---
Ghosts and Graves
Framed by the lych gate, In the shadows of the flint Eton Cemetery Chapel and flanked by stone memorials commemorating the war dead, lie the burial places, distanced by some 40 years, of two acknowledged connoisseurs of supernatural literature; MR James and Margaret Oliphant.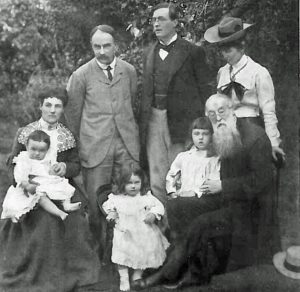 Montague Rhodes James (1862-1936) OM MA, (centre back) a brilliant medieval scholar, antiquary, and expert on Bible-apocrypha, was once described as "the cleverest man in Britain". He is now best remembered, by the general public, for his two collections of "Ghost stories of an Antiquary ", written originally as chilling Christmas Eve entertainments for fellow dons at Kings College, Cambridge, where he was Provost (1906-1918) and later for Masters at Eton College, his old school, where he also became Provost (1918-1936).
MR, known affectionately as Monty, was born in 1862 at Goodnestone Parsonage in Kent, the son of curate Herbert James. A precocious boy, he won a scholarship to Eton in 1875. At that time Francis Oliphant, the elder of two sons of Margaret Oliphant, entered the sixth form.
Monty shone at Eton culminating in winning the most prestigious academic award, the Newcastle Scholarship in 1882, before entering Kings College Cambridge further distinguishing himself by becoming Junior Dean and then Fellow. An outstanding linguist he learned Aramaic and Hebrew for his biblical studies. His light relief became his annual Christmas Eve ghost stories read to members of the Cambridge Chit Chat Club. An enthusiastic member of the amateur dramatic society Monty was ideally suited to the portrayal of a chilling character. At Eton he wrote, "The Wailing Well" for a scout camp and "After Dark in the Playing Fields" for an ephemeral.
Monty knew of the ghostly works of Mrs. Oliphant. He considered "The Open Door" one of the really good ghost stories, where "the elements of beauty and pity dominate terror".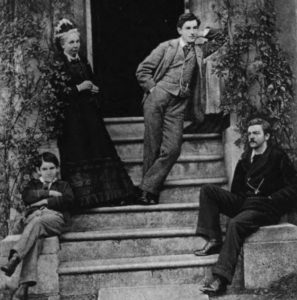 At her peak in the second half of the Victorian era, Mrs. Margaret Oliphant (1828-1897) (seen here with her sons) was one of the most popular, successful, and prolific authors of the time. Born near Musselburgh Scotland she became the best-selling writer of over 160 novels, novellas and shorter works of fiction, travel, literary criticism and biographies, latterly of Queen Victoria (who reportedly regarded her as her favourite author). As a widow she earned sufficiently well to send her two remaining sons to Eton and to raise her brother's family, moving to Windsor c.1866 to be near them. By this time she was already a public celebrity.
Mrs. Oliphant responded to the growing public interest in the supernatural in 1876 beginning a series of annual publications of "Stories of the seen and unseen" featuring tales of ghosts, spirits apparitions, and (foretelling fellow Scot JK Rowling?) wizards.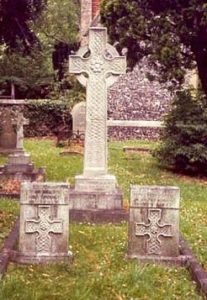 Hers was a tragic personal life; she became familiar with death. She lost three children in infancy and her husband to tuberculosis. Her two surviving sons both died in their 30s. Still mourning their passing she too died in Windsor in 1897 where she is commemorated by a Blue Plaque on her house in Clarence Road. Such was her status that she has a Memorial to her in St Giles Cathedral, Edinburgh. She is buried, marked in a striking trio of gravestones, with her two sons Cyril (1856 -1890) and Francis Romano (1859-1894).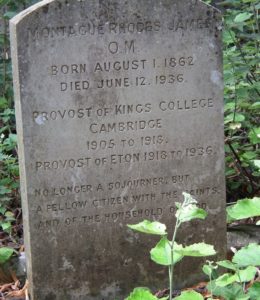 Monty died peacefully at Eton, unmarried but not alone. The University, his books and Eton were his life. His headstone is inscribed from Ephesians 11: "No more a sojourner but a fellow citizen with the Saints and of the household of God".
Sources/Acknowledgements: Ghosts and Scholars: Rosemary Pardoe; Bucks Garden Trust
Published: Eton Matters, March 2022, Issue 27.
EM Editor: Peter Eaton editor@etoncommunity.co.uk
Brian Hoare, former Eton resident
Note: Brian Hoare has kindly forwarded his article Ghosts and Graves. During lockdown the Research and Recording group focused on areas that were accessible and outdoors which meant a number of parks and cemeteries came under their radar including Eton. https://bucksgardenstrust.org.uk/research-and-recording/buckinghamshire-cemeteries/ 
14
---
A Paradise in Palermo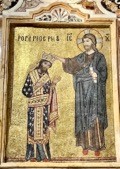 In January, a week in Sicily to explore the UNESCO World Heritage sites of Arab-Norman Palermo and the Cathedral Churches of Cefalu and Monreale, nine buildings from the vibrant era of the Norman kingdom of Sicily (1130-1194): https://whc.unesco.org/en/list/1487. A big contrast to my last summer trip 50 years ago – six impoverished history students and a van.
In the late C11th, Norman brothers Robert Guiscard and Roger de Hauteville conquered Southern Italy and created two kingdoms. In Sicily Roger I found the wealth and culture of a three-centuries old Islamic civilisation. His son King Roger II of Sicily is depicted in a contemporary mosaic as being crowned by Christ himself in 1130 (Image 1) to show his authority came directly from God rather than the Pope.
Roger rebuilt the Arab stronghold in Palermo and created a special artistic flowering in the Mediterranean heat – Byzantine mosaics with Norman and Islamic architecture, including their Paradise Gardens in summer palaces.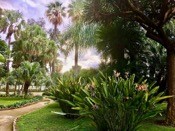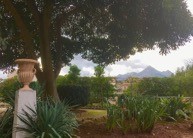 The Palazzo dei Normanni on its huge rock has hosted rulers since Phoenician times (Image 2).  A small area behind the palace, the Royal Gardens, is a surviving fragment of the great estate Gennàt al-àrd, pronounced Genoard in Norman French, translated as 'Paradise on Earth' (Image 3).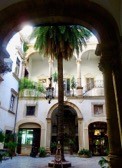 Palaces lining the Roman streets echo the need for cool and shade in the summer heat of Sicily.
Another fragment of the Genoard is the summer palace of the  Zisa, from the Arabic al-Aziz (noble, splendid) built by Roger's successors, William I and II, in the 1160s and 1170s (Images 4 & 5). King William built near Palermo a palace of considerable height, constructed with superb artifice, which he called Zisa; and he surrounded it with beautiful fruit-bearing trees and pleasant gardens, and with divers watercourses and fish pools he rendered it delectable. (C12th chronicler)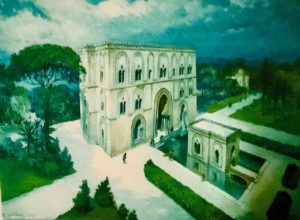 The source of wealth for all rulers – Romans, Byzantines, Muslims and Normans – was the fertile river valley behind Palermo. As well as solatia like the Zisa, summer palaces for the refreshment of the weary ruler, the land of the Genoard was laid out with villas and intensively cultivated mainly for lemon orchards with strips of connected woodland for the Norman knightly pursuit of hunting. There were exotic animals, flowers, vegetable gardens and orchards with fruit trees of every species: bitter oranges, lumia (a small sweet lemon), lemons, apricots, figs and grapevines.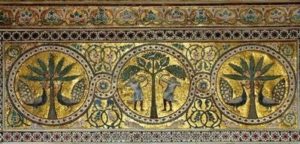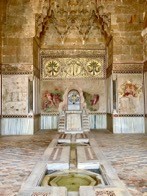 The idea of Paradise on Earth, flowing streams outside the palazzo, is anticipated in the iwan (audience chamber), the Sala della Fontana (Image 6). Byzantine marble panels, Islamic muqarnas, a trickling fountain and, uniquely, a Byzantine mosaic panel with hunting motifs as in King Roger's palace a generation earlier (Image 7).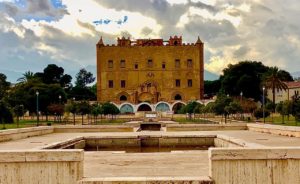 A small area of the Zisa paradise landscape, the hammam (bath house) and the chapel survive as a public park within Palermo's streets (Image 8). The 2015 UNESCO listing brought new funding but now, post-Covid and other priorities, it has a disheveled look although roses and Bougainvillea still bloom.
Sarah Gray
15
---
News and Snippets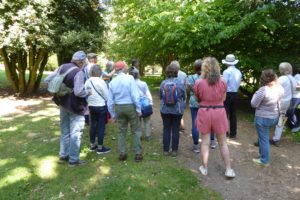 25th Anniversary Events: Have you booked yet?

A number of members have asked if it is possible to organise garden visits at weekends.  The majority of gardens and estates we visit are private with the owners preferring to keep Saturday and Sunday for themselves, family and friends. However, we will continue to ask. If you have a friend with an 'Unforgettable Garden' who could be persuaded to have an enthusiastic, knowledgeable group visit, perhaps at a weekend please do get in contact with Rosemary Jury or Claire de Carle.
From the programme we have completed six garden visits and walks and we have more to look forward to. Please do book early to avoid disappointment: garden visits have a cut-off date for booking about 7 days prior to the visit. There are still a few tickets available for the following:
Tuesday 14th June 14.30: Tree walk to Tomkins Arboretum, Winslow led by our expert Michael Hunt
Wednesday 22nd June 10.00: Garden Visit to Eythrope, Waddesdon with lunch
Thursday 14th July 14.00: Garden Visit to Dorneywood, Slough
Tuesday 19th July 14.00: Tree Walk to Newlands Tree Cathedral in the City of Milton Keynes with Michael Hunt
Saturday 13th August 13.30: AGM, refreshments followed by a walk to see the Great Linford restoration project. FREE but please book so we know how much cake to bake!
Wednesday 14th September 10.00: Garden Visit to Eythrope, Waddesdon with lunch
Thursday 13th October 12.00 noon: Celebratory Lunch at Hampden House, Great Hampden for the 25th Anniversary
Sunday 23rd October at 14.30: Tree Walk at Priestfield Arboretum, Little Kingshill
We are already booking talks and events for Autumn and 2023 so keep some room in your diaries.
To book tickets and check availability book and pay online. Bookings can be made through: www.ticketsource.co.uk/buckinghamshire-gardens-trust   You can book all your events with a 'shopping basket' and then pay online by card. If you are having problems then email enquiries@bucksgardenstrust.org.uk
Welcome to New Members
The Bucks Gardens Trust is delighted to welcome the following new members: Richard Valentine, Gillian Axtell, and Colin Hayfield.
The Gardens Trust
As a county member of the Bucks Gardens Trust you are affiliated with The Gardens Trust and can book on to any of their lectures and courses. http://thegardenstrust.org./events-archive/page/2/  
There is a very large range of Zoom lectures available from March to July and some are free. A new season of lectures will be advertised in August for the Autumn.
Bucks GT Contacts
enquiries@bucksgardenstrust.org.uk                 Rosemary Jury
membership@bucksgardenstrust.org.uk                  Sarah Gray
research@bucksgardenstrust.org.uk                     Claire de Carle
Copy dates for 2022
Autumn – 13th August for publication 29th August
Christmas – 12th November for online publication or maybe a special Christmas publication 1st December
Gwen Miles – Editor               Clare Butler – Deputy Editor