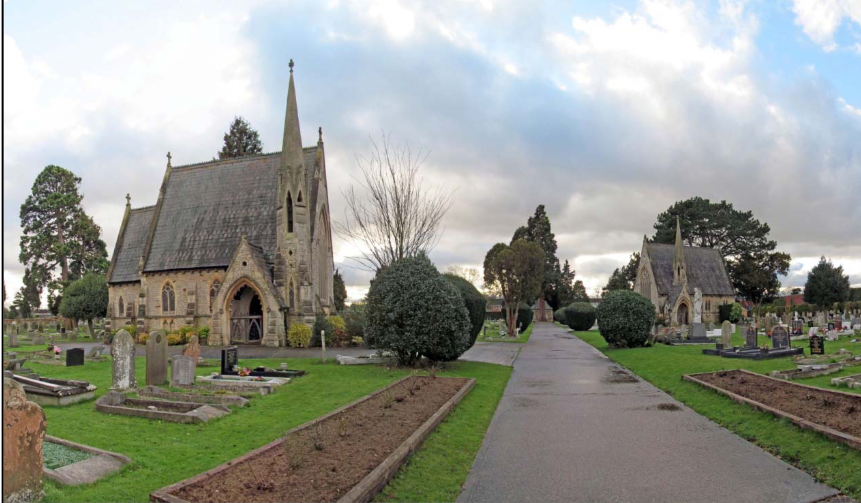 BUCKINGHAMSHIRE CEMETERIES
Cemeteries and their designed landscapes have long been of interest to our volunteer Sarah Rutherford. As Head of Historic England's Register of Parks and Gardens she led a project to assess the significance of cemeteries across England, and since then as a consultant she has worked on various other cemetery assessment projects for Historic England. In 2008 she wrote The Victorian Cemetery for Shire Books which has sold nearly 7,000 copies.
In historic Buckinghamshire we are fortunate to have a number of interesting but little known small to medium-sized cemeteries. Four of them were researched as part of the ongoing Research and Recording project (Aylesbury, High Wycombe, Marlow and Dadford). During 2020 Sarah found time to research six other cemeteries across the county, from Stony Stratford Cemetery in the north to Amersham in the south. A variety of C19 architects designed the layouts and structures. These reports uncovered a wealth of previously unresearched material and are accompanied by plans and current images, photographed with help from Ken Edwards. Perhaps the most significant of these in design terms are those in Eton and Newport Pagnell, and are likely to merit inclusion on the Historic England Register. The others are all of considerable interest in Bucks, with interesting documentary evidence to inform an understanding of their significance. You can access our reports on this page.
Definition of a cemetery – a place for burials, other than a church or graveyard attached to a regular place of worship. Cemeteries are usually multi-denominational but may belong exclusively to one.