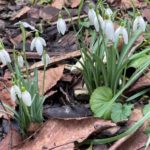 Spring has arrived and with it the wonderful displays of spring flowers. These are a small list of places you can visit. Please check opening times.
Snowdrop walks in Buckinghamshire
Stowe Landscape Gardens. Not only is the site itself a brilliant day out, the snowdrop walk is beautiful too!
Cliveden, near Taplow is another top National Trust spot for snowdrops. The woodland area is full of them!
Waddesdon Manor at this time of year Daffodil Hill at Waddesdon Manor near Aylesbury is full of snowdrops. The hill is huge so it's a pretty impressive display! There's also lots of hidden snowdrops if you follow the Baron's Walk.
Hughenden Manor near High Wycombe has its own stunning display each year and is open most days.
Snowdrop walks in Oxfordshire, Hertfordshire and Bedfordshire
Upton House the slopes of Upton House, near Banbury are covered in snowdrops, but they can also be found throughout the gardens.
Waterperry gardens has a spectacular display. You can wander through the woodland area and cross the stream, all surrounded by snowdrops!
Benington Lordship near Stevenage are holding snowdrop walks from the 4th Feb – 26th February 11:00 – 16:00.
The King's Arm Garden in Ampthill, Bedfordshire has nothing to do with the pub! But it is a spectacular place to see snowdrops. Open on the 26th February from 14:00 – 16:00.
Houghton Hall Park near Dunstable is free to visit (for up to 3 hours) and has lots of snowdrops. Open every day.
Shuttleworth Trust in Biggleswade has a fantastic display of snowdrops plus you get to look around their aircraft museum, explore the gardens and play in the playground!