Winter & Spring Flowering Shrubs and Trees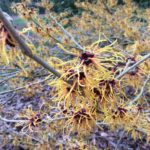 It is starting to warm up and the days are definitely lengthening.  Michael Hunt, our tree guru, has been out with his camera hunting down examples of "witch hazel" including Hamamelis X Intermedia "Glowing Embers" 
Michael's research shows that the hamamelis, witch hazel originated from three species found in East North America,  Japan and China. Hamamelis Mollis was collected for the Veitches Nurseries in 1879  by plant hunter Charles Maries in the Chinese district of Jiujian on the southern shores of the Yangtze River; Jiujiang means "nine rivers".
The shrub can withstand the severest weather and continually flowers from December to March. The the spider-like yellow flowers are followed later by hazel like leaves which look splendid in Autumn.
The many varieties of Hamamelis now available are the result  of Jelena and Robert de Belder who produced many cultivars at their Arboretum at Kalmthout in Belgium starting in the early 1950's and later in the 1980's from their private Arboretum in Hamelrijk Essen. These cultivars  originate from the Chinese and Japanese Witch Hazels, Hamamelis X intermedi.
Other shrubs and trees spotted recently include:
One of the earliest flowering cherries is blooming is Prunus Pseudocerasus Cantabrigiensis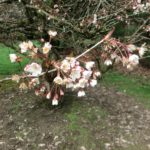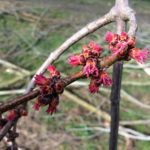 Acer-Saccharinum-silver-maple. Another tree local to Michael's home.