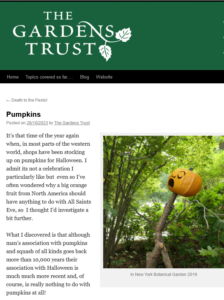 It's that time of the year again when, in most parts of the western world, shops have been stocking up on pumpkins for Halloween.
David March in his blog this week for The Gardens Trust gives an insight into the history of the pumpkin. Click  on the link for more detail.
David will be giving a talk to Buckinghamshire Gardens Trust on Saturday 27th January at 2.30 entitled " Puzzle Pictures" – put it in your 2024 diary and see more detail on the website Events page.