Visit to Chenies Manor House, Tuesday 26 April 2022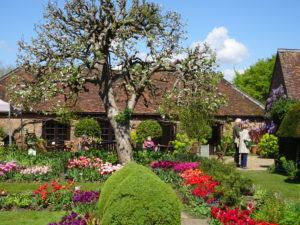 Located on a south-facing slope overlooking the Chess Valley, Chenies Manor House makes a dramatic backdrop for its beautiful gardens.
Beside an old Bramley apple tree, crowned with mistletoe, Charles MacLeod Matthews, the present owner, introduced the fascinating history of the estate. From its creation in the 1500s to the present, Chenies has seen both sad decline and recent restoration. Before they moved to Woburn, Chenies was the home of the Dukes of Bedford and the nearby church of St Michael's holds the Russell family memorial chapel. Formerly visited by Tudor royalty: Henry VIII and his fifth wife Catherine Howard, and later by Queen Elizabeth I, who lost a piece of jewellery under its ancient oak, Chenies now hosts weddings and film crews. We were treated to a tour of the historic house before exploring the award-winning gardens.
The highlight of our visit was the sunken garden with its dazzling display of tulips planted in groups of co-ordinating colours. Designed by Mrs Boo Macleod Matthews, this featured many different forms of the flower in shades of rich pinks and deep purples and included varieties such as Merlot, Time Out, National Velvet and Finola. These are set among dark-leaved perennials and neat grassed areas around a little pond.
A complete contrast to the sunken garden, the White Garden is much more restrained. Beautifully trimmed topiary shows off the perfect blooms of the pristine tulips. We also saw the south-facing flower bed which features groups of tulips in hot colours complementing the terracotta tones of the Tudor brickwork along this windowless wall. They were apparently bricked up to prevent the spread of disease-carrying air from the direction of London. The bulbs are obtained from Rose Cottage Plants.
The garden also features a wonderful herb garden with clearly labelled plants grouped according to their uses.
We were very fortunate with the weather and the tulips were at their best. I enjoyed it so much I went back a few days later.
Sheila Meekums