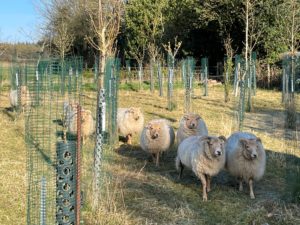 A Welcome to Chiltern Heritage Orchards
In 2016 horticulturalist and lecturer Lindsay Engers started a traditional mixed fruit orchard in the Chilterns on a farm near St Leonards.
He farms using traditional short, intensive sheep grazing and strict organic standards to establish over 250 different cultivars of fruit. The choice of fruit is mainly commercial cultivars popular in markets, hotels, and grocers of the 19th century. They include once common apples such as White Spanish Reinette; pears: Pitmaston Duchess; damsons: the highly prized Aylesbury Prune and greengages: Denniston's Superb.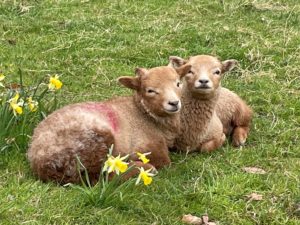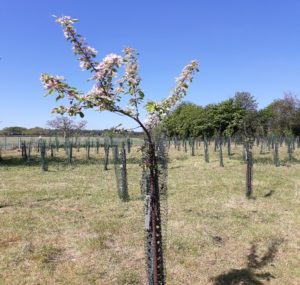 This commercial orchard has many features common to the orchards of the 19th century. Tree canopy training is narrow and pencil or pyramidal pruned, advocated by the great Thomas Rivers (1798–1877), the Hertfordshire plantsman. The continuously grassed orchard is currently in conversion to acquire Soil Association Organic Certification. Wildflowers and rare creatures abound in the summer meadow grass after the spring grazing. Marbled White butterflies and rare spider, beetle, and ant species live alongside crickets and grasshoppers whose rasping song can be heard among the skylarks' calls wheeling high above.
This heritage orchard utilises three simple principles of agricultural business:
1      historical knowledge of reliable cultivars and growing requirements.
2      organic and regenerative growing techniques which produce highly flavoured and pesticide-free crops.
3      using diverse ecological environmental practices to support the crop through beneficial insects, birds and bats which, of course, creates incredibly productive habitats for many rare wildlife species.
The management of the orchard utilises no weedkiller, fungicide or insecticides; minimal seaweed fertiliser and basalt rock dust soil remineraliser are used in line with organic standards. Chiltern Heritage Orchards is proving that a highly productive, mixed agricultural landscape is also a stable, species-rich wildlife haven.
The move to artisan food producers, local markets, farm shops and the home delivery of foods has fuelled interest in the reintroduction of local heritage fruits. Many of the cultivars have been rescued by nurseries such as local Bernwode Fruit Trees and further afield, Keepers and Walcot nurseries. Their amazing work has enabled the reintroduction of commercially extinct fruits to the public. These includes Warden Pears, once relied on as potato or meat substitutes, now winning favour with some dieticians. Many of the orchards' cultivars have been shown by scientists to have higher Vitamin C content, higher soluble and insoluble fibre and antioxidant levels with better flavours than more modern cultivars. For example some cultivars do not turn brown when cut and are used in restaurants for their keeping qualities. Others are almost extinct: cider apples; the famous American Hewes Crab, or ancient pears such as Citron de Carmes, forgotten plums: Belle de Louvain; late season bullaces: Winter Crack, and medieval Service trees, popular in Europe for cider and eating. It is impossible to list all cultivars grown in this article, but historically significant local cultivars include Bazeley, Long Reinette and S.T. Wright apples.
A key aim for the orchard is that as a thriving business, it works with other artisan food businesses in the Chilterns. Traditional full-flavoured organic cider and other beverages and juices are to be made from the huge range of fruit grown in the orchard. Also, to supply organic apples and pears to enthusiastic local cider and perry makers. Organic damsons, greengages, plums and cooking and desert apples and pears are coming into production and will start to be available.
The stories and food culture of these almost lost fruits is a treasure we must cherish. Growing them allows the enjoyment of the flavours of the past, while enriching our environments and protecting the health of the country.
If you are interested in Chiltern Heritage Orchards please browse our videos plus crop updates and contacts on our YouTube and Instagram channels and visit our website chilternheritageorchards.com.
The Chiltern Heritage Orchards Team
First published in the Bucks GT Newsletter May 2021