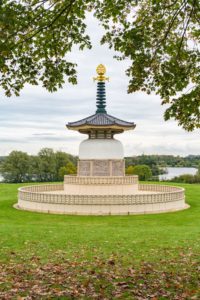 Willen Lake
It's quite hard to do justice to the 4 May BGT walk at North Willen Lake in 500 words. Tim Skelton, a surveyor who worked for Milton Keynes Development Corporation, and Chair of Milton Keynes Forum, aided and abetted by Pete Martin, local architect who also worked for MKDC, led 15 people around this spectacular site.
One-fifth of MK, 6000 acres, is open space managed by the Parks Trust. It's the greenest city in the UK by a long way (it technically isn't a city, but never mind), and looking out from the Sky Room at MK Gallery you wouldn't know that it contained any houses at all. Willen Lake is the largest and most popular of several balancing lakes across MK designed to avoid flooding. The South Lake is reserved for water-based activities while the quiet North Lake has recorded over 200 bird species. Incredibly, the undulating surrounding landscape is entirely man-made from the excavation of the lakes and nearby roadways.
It can be seen as a modern sacred landscape. The famous Peace Pagoda, the first in the West, is a 'stupa' dome featuring traditional carved stone panels depicting the life of Buddha. under a 'parasol' roof, on a hillside commanding views of the lake and beyond. The site is encircled by 1000 cherry and cedar trees. Tucked behind the Pagoda is the temple and community (Sangha) of the Nipponzan Myohoji Buddhist order of monks. Heralded by a granite sculpture 'Hiroshima Departed' by Ronald Rae, in front is a beautiful miniature Japanese garden, spectacular with cherry blossom on our visit, while behind is a Zen garden.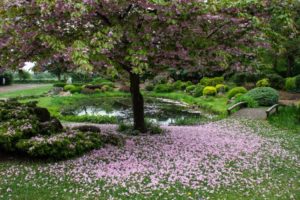 Nearby is the 'Circle of Hearts' or 'Medicine Wheel', a stone circle designed and initiated by Roy Littlesun, the adopted son of a Native American elder which can be used by individuals and groups for meditation, celebration and prayer. The Wheel is made up of 108 limestone blocks from Weston Underwood arranged in symbolic outer and inner circles, and has four gateways representing the four compass points, the seasons, the races and the four elements. It sits on an alignment from Midsummer Boulevard through the Belvedere in Campbell Park and the Trees Cathedral at Newlands to the island in North Willen Lake.
The walk then took us past Willen Hospice overlooking the lake and into Willen Village where, approached via an avenue of lime trees, is the remarkable Baroque Church of St Mary Magdalene Completed in 1680, it is the only surviving church designed by the eminent scientist, inventor and architect Robert Hooke.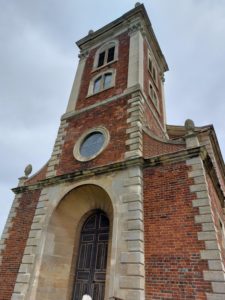 The final stretch of the walk overlooked Willen Labyrinth, a turf maze. At its centre is an oak tree and in each of the four lobes is a bronze face designed by sculptor Tim Minett. The site was originally intended as an arena, which would have disturbed the tranquillity of the area somewhat, but this plan was fortunately superseded by the MK Bowl on the far side of the city.
Many thanks to Tim and Pete for such an informative walk. For more detail, BGT Research and Recording volunteers have produced a Site Dossier: https://bucksgardenstrust.org.uk/wp-content/uploads/2019/01/Willen_Lakes-Milton_Keynes.pdf
Clare Butler
Peace Pagoda (John O'Dwyer)
Japanese garden (John O'Dwyer)
Willen Church (John O'Dwyer)