Buckinghamshire's Forgotten Women in Gardening: Alice de Rothschild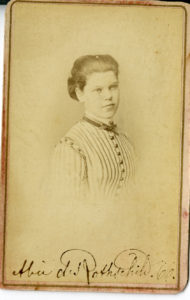 Alice Charlotte von Rothschild was born in Frankfurt on 17 February 1847. She spent her early years in Vienna, and after the death of her mother in 1859 spent time with various European relatives including at Aston Clinton and Mentmore. When her brother Ferdinand's wife Evelina died in 1866 she assumed the role of hostess at Waddesdon Manor, buying the adjacent Eythrope estate in 1875 – the two properties were connected by a landscaped drive. She had a house built for her there by George Devey, called 'The Pavilion', although because her doctor advised her not to sleep in a location so close to the River Thame, she returned to Waddesdon every night.
At Eythrope she laid out her 60 acres (her 'little garden') as ornamental gardens to rival the opulence of those at Waddesdon: an extensive lawn in front of The Pavilion, studded with flower beds, shrubberies and specimen trees, together with a 'wilderness' carpeted with primroses and bluebells and a 'wild garden' of shrubs and ivies. It's possible that in this she was influenced by her friend and correspondent Ellen Wilmott (1858-1934), likewise a famous horticulturalist who as well as her family home at Warley Place in Essex owned properties in the south of France and Italy. Ellen favoured the 'wild garden' style of William Robinson, although Alice considered that formal features also have their place in a garden and included an Italian garden, a Dutch garden, a Mexican garden devoted to succulents, an extensive rose garden and 'carpet bedding' bedding in sculptural beds. She also created a large kitchen garden, now restored to its late 19th century glory complete with glasshouses, fruit trees, a topiary garden, herbaceous borders and vegetable gardens.
The remarkable survival of stereoscopic autochrome slides showing the gardens in their heyday has provided a reference for the recreation of planting schemes at Eythrope and Waddesdon.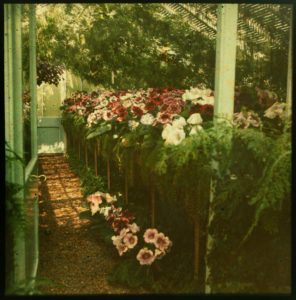 Alice inherited Waddesdon on Ferdinand's death in1898 and by all accounts, her standards for the gardens equalled those of 'Miss Alice's Rules' for the housekeeping at Waddesdon (upon which the National Trust still base their conservation practices). Under Alice's exacting regime the 'Waddesdon Standard' became the byword for how things should be done in late Victorian and Edwardian country houses and gardens that were built for entertaining. Their scope and scale are almost unimaginable today. In 1888 she began to purchase plots of land at Grasse which eventually became a 135-hectare (333-acre) terraced hillside estate which she named Villa Victoria and where she employed over 100 gardeners. Queen Victoria is said to have nicknamed her 'the All-Powerful', and her cousin Constance noted that she was 'most precise and punctual in all her habits', and 'no detail however small escaped her notice'.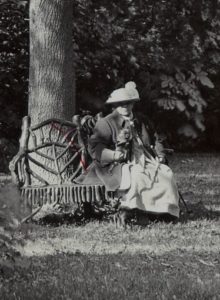 Some of this autocracy is evidenced by her letters to her head gardener at Waddesdon, George Johnson, while she wintered at Grasse. She kept a close eye on the English weather reports, and sent him detailed instructions on all aspects of the gardens, surviving in letters she wrote to him between 1905 and 1921. Her letters demonstrate the breadth of her horticultural expertise, not only as regards the ornamental gardens but also fruit and vegetable production and Waddesdon's huge range of glasshouses. She also ran the wider estate, introducing new methods of animal husbandry and raising prize-winning stock. Alice threw herself into the war effort: from 1916 floral displays gave way to vegetables, and cut flowers for the house were given up.
She was remembered for her concern for her employees and tenants, following their progress, providing resources in the village, and ensuring their welfare. This redoubtable lady died in Paris in 1922 aged 75.
This summer Waddesdon Manor will be staging an exhibition to commemorate her:
'Alice's Wonderlands' is in the The Manor, Coach House Gallery and Eythrope Walled Garden from March 23 until October 30 2022. 
Sources:
Gardens Trust, online lecture: 'Forgotten Women Gardeners – 'Alice "The All-Powerful" de Rothschild' by Sophie Piebenga, 18 January 2022
https://family.rothschildarchive.org/estates/49-eythrope
https://family.rothschildarchive.org/people/58-alice-charlotte-von-rothschild-1847-1922
https://www.parksandgardens.org/places/eythrope
Clare Butler