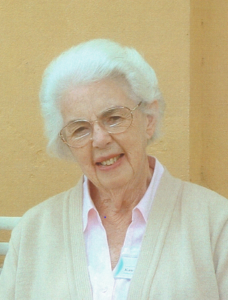 Buckinghamshire's Forgotten Women in Gardening: Kay Naylor Saneski   (1922 – 2005)
Archivist, writer, editor, garden historian and horticulturalist
Kay's 100th birthday would have been in 2022, and interestingly this year also marks the 50th Anniversary of The Garden History Journal as well as the Bucks Gardens Trust's 25th Anniversary and of course the Queen's Platinum Jubilee. Quite a year!!
Sadly, I never met Kay as it was around 2013 that I first came across her whilst researching for my MA dissertation on Maud Grieve. I do however owe much to her as she had carried out a considerable amount of research on Maud, and other herbalists from the 1970s onwards. Her research formed the basis for my dissertation and later my book about 'Maud' which I fittingly dedicated to Kay.
I discovered Kay's archive quite by chance when I contacted Joan Dugdale, a herbalist living in Australia; she had hoped to write a book about Maud but was unable to find sufficient information about her early life. Joan suggested I contact Mick Thompson, the estate manager at Ashridge, as he was the custodian of Kay's archive. Of course, I already knew of Mick as he was secretary of Bucks Gardens Trust. He had produced copies of Kay's papers which he gave me, as well as lending me some of Maud's pamphlets. The rest is history, as they say: I completed my MA and in 2017 published the book about Maud Grieve.
Kay Smith or Kathleen as she was then known was born in Wigan, Lancs. On finishing school, she left home at the age of just 17, and enrolled at Studley College in Warwickshire to study Horticulture. She was there for three years between 1940 and 1943, becoming head girl. She later wrote a history of the establishment. The women-only college was set up in 1898 by Lady Frances, Countess of Warwick in 1902 it moved to Studley Castle. During the war she also signed up for the Women's Land Army.
On leaving the college she worked at the RHS at Wisley and in London and she also started to contribute to garden journals and magazines. She was then invited to join Amateur Gardening magazine and continued to freelance whilst bringing up her daughter. Kay had married Waclaw Kasimercz (known as Vance) in 1952 and their only child Diana was born in 1955.
In 1956 she published her first book on herbs, Wild and Garden Herbs. She was editor of the Hardy Plant Society Bulletin for ten years and in the early 1960s the consultant editor on horticulture for the Reader's Digest.
In 1967 she was a founding member of The Garden History Society (later The Gardens Trust), serving as secretary and conference organiser. Finally standing down from the committee in 1979, she was elected a Life Vice-President in 1980 in recognition of her contribution. Kay played a key role in the promotion of Garden History both in the UK and internationally and was instrumental in increasing the society's membership.
During the 1970s she continued to publish and edit, including as assistant editor on the Marshall Cavendish Encyclopaedia of Gardening. She was also commissioned to write numerous affordable little gems for Shire Publications, including Discovering English Gardens, Discovering Herbs, Humphry Repton and Old Garden Tools (probably the most popular title).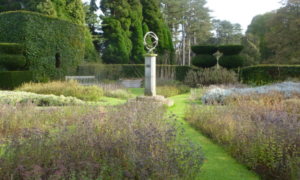 From 1970 to 1974 she was the Registrar at Ashridge Management College. Later, in 1982, she returned as the archivist responsible for the estate and family records, a position she held until she retired in 2000. In 1994, she also started the very successful Ashridge Summer Schools, with attendees coming from America and Europe. When Mick Thompson arrived to take on the role of garden manager at Ashridge in 1994 it was the beginning of a great partnership: alongside the ever-enthusiastic Richard Wheeler, Kay ensured that Mick's ambitious restoration projects came to fruition.
An ornamental herb and flower garden at Ashridge was created in the late nineteenth century probably by the 3rd Earl Brownlow, in memory of his mother, Lady Marian Alford however by the 1980s this had long gone. Plans were put in place to create a new garden in 2005, the beds were laid to a design that Humphry Repton had intended for another part of the garden. The garden is made up of twelve tear drop shaped beds in a circle which represent the petals of a flower with a central sandstone column and armorial sphere. As Kay had passed away earlier in the year and given her extensive work on herbs, it was seen as fitting that the herb garden at Ashridge should be dedicated to her as well as Lady Marian both significant women that left their mark on Ashridge.
Kay had a wide and varied career, and I cannot begin to list her extensive achievements in publishing, and writing, and the numerous officer positions she held in the horticultural sector. For me, her book the History of the English Herb Garden with its foreword by Anthony Huxley (1992, Ward Lock) was her most successful publication, and in my opinion, her enthusiasm for herbs is only surpassed by that of Maud Grieve herself and perhaps today by the likes of Jekka McVicar.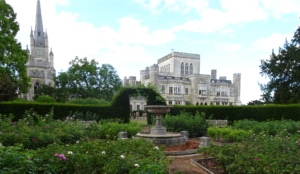 It was only when I started to read Kay's archive that I realised how difficult research must have been before the internet. She had to type letters to archives and many others and maybe wait weeks for a response, whereas today we expect to get instant feedback online! I am eternally grateful that her legacy provided me with such wonderful material, which I use to spread the word about the importance of medicinal herbs through my publication on 'Maud' and my numerous talks to local and national groups.
Reference The Bucks Gardener Summer 2005 pp 6–7,
M. Thompson, R. WheelerMany thanks to Mick Thompson for lending me Kay's archive, and Diana Savil for information on her mother
Claire de Carle