Buckinghamshire's Forgotten Women in Gardening: Margaret Ursula Mee (1909–1988)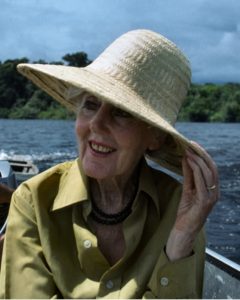 Margaret Mee, a celebrated botanical artist whose exotic paintings of the Brazilian Amazon rainforest flora are exhibited around the world, started life in a modest but happy family among the farms and fields of early 20th-century Chesham. Born Margaret Ursula Brown on 22nd May 1909 in White Hill, a year or so later, the family moved to Lye Green Road, their house there, Rosemead, now a care home called Culwood. She, her two sisters and brother enjoyed a carefree, rural childhood, their early education provided by an aunt living with the family on and off. Ellen (Aunt Nell) worked as a children's book illustrator, much to Margaret's admiration. In those times, this was highly unusual for a girl.
The family idyll was interrupted by the outbreak of WWI. Their father, George, too old to fight, was determined to help however he could and was posted elsewhere to help the domestic war effort.Meanwhile, her mother Lizbelle moved the family to Hove, East Sussex, for the duration where Margaret attended a local school. Her report showed she made good progress in botany and was steadily progressing in art, coming top of the form.
On return to Chesham in 1922, the family settled in Eskdale Avenue and Margaret took up a place at Dr Challoner's Grammar School. Founded as a boys' school in Old Amersham in 1624, nearly 300 years earlier, it expanded to new premises in Amersham-on-the-Hill in 1905 and became co-educational. Here, also, Margaret's talent was noted by art teacher, 'Benjy' Buckingham.
A keen amateur naturalist himself, George encouraged Margaret's early enthusiasm for wildlife. She began tentatively sketching plants but, of course, had no awareness that she would spend the second half of her life producing an extensive archive of botanical artwork which would be exhibited long after her death. Most is at Kew, while many other smaller collections around the world hold samples of her work, including that of the late Prince Philip, Duke of Edinburgh.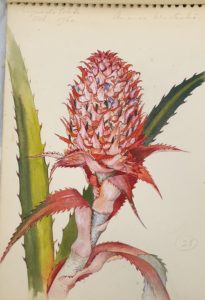 Her early career, however, took her in an entirely different direction. She spent time teaching in Liverpool and married an active trades unionist, Reg Bartlett. She joined the communist party, took part in demonstrations outside Downing Street, and spoke at a TUC Conference, receiving a standing ovation. Consequently, she was offered a job working in the office of Ernest Bevin. However, she turned it down and, what's more, realising she was unhappy, ended her marriage. Once again, though, life was interrupted by war. Margaret spent WWII deploying her skills in the drawing office of the De Havilland aircraft factory in Hatfield where a permanent position was offered, and similarly refused.
After enrolling in evening art classes at St Martin's School of Art in London, and meeting second husband Greville Mee there, Margaret realised that art was where her real passions lay. She began a full-time course at Camberwell School of Art tutored by renowned artist Victor Pasmore, part of the Euston Road Group which included members of the Bloomsbury Set including Vanessa Bell.
It was a trip to visit her ailing sister, Catherine, living in Brazil, however, which really changed the course of her life. She and Greville had intended to return to live in the UK eventually, but never did. They would go for long walks to the coast or forest to avoid the heat and noise of São Paulo, and Margaret began to draw the plants she found there.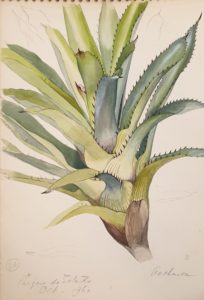 Fifteen plant-hunting expeditions followed during a period of over thirty years, trips which took her further into the rainforest or along the rivers of the Amazon basin.
She was intrepid in her quest to find exciting species to draw, facing dangers from wildlife, becoming lost, or being attacked by wary indigenous tribespeople. Developing a particular interest in bromeliads, as well as, to a lesser extent, orchids, she would make quick sketches and bring back specimens to work from, but also paint in the forest from the living plant.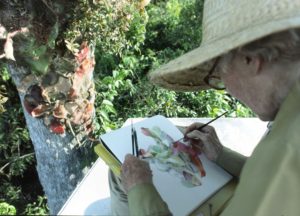 The precision of her work, its beauty and her contributions to conservation had already gained her a reputation among botanists and other scientists. Soon knowledge of her fearlessness, so at odds with her slight, softly well-spoken persona, would do the same among the public. Newspaper articles appeared about her, and she was interviewed on Radio 4 and even on TV in America, when she would offer anecdotes describing the challenges she faced. How ironic, then, that her life should end in a car crash on a British road. She had returned for the opening of a major exhibition of her work at Kew, and publication of her expedition diaries. Tragically she died a few weeks later on 30th November 1988, aged 79.
References
Dr Challoners School, Amersham, 'A History of Our Challoners'
<https://www.challoners.com/c/our-school/history-of-challoners/introduction> [Accessed 12th February 2022]
Morrison, T. (ed.) Margaret Mee: In Search of Flowers of the Amazon Forests (Woodbridge: Nonesuch Expeditions, 1988)
Nonesuch Expeditions 'Margaret Mee's Amazon', <http://www.nonesuchexpeditions.com/margaret-mee/margaret-mees-amazon-contents.htm> [Accessed 12 February 2022]
Seabright, J., Chesham Through Time (Stroud: Amberley Publishing, 2010)
Treadgold, F. R., Challoners 1624–1974 (Privately published, 1974)
Photographs from sketchbooks taken by Catherine Youd
Catherine Youd