Note: The Bucks Gardens Trust is updating a number of Artists  and their Gardens reports  now that museums, galleries and record offices are open. We hope to reinstate the reports under review by the end of 2021.
Artists' Gardens – Update February 2021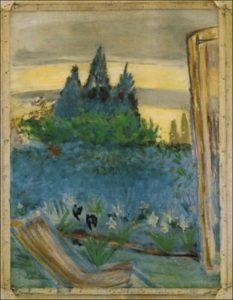 We are pleased to announce that we have now completed reports on 15 artists' gardens, all available to view here. We expect to have at least 20 reports in total out of a list of over 30 potential subjects. These 20 are certainly the most significant as they were not only prolific artists but, in most cases, took an interest in their gardens and some of their work was inspired by their gardens and the local Buckinghamshire landscape. We have however sub-divided the artists into 'A and 'B' lists: those on the 'A' list spent long periods of their lives in Bucks and most are recognised nationally as well as locally.
Look out for the following reports later in the year: in the Princes Risborough area Clare Leighton, Frances Unwin, Eric Fitch Daglish and John Nash, and Mary Sargant Florence at Lord's Wood, Marlow. A few artists have remained elusive and it will not be possible to find out more until archives reopen: in the High Wycombe area, Walter Stamps, Francis Colmer and Edmund Niemann. In Chalfont St Peter, Thomas Edgar and at Dinton, Henry Marvel Carr (a dissertation about him is held at the County Museum Archive, Halton – which is closed for the foreseeable future). For those who are interested in stained glass art we have at least two candidates, Joseph Nuttgens who trained at Chipping Camden and was a friend/neighbour of Eric Gill's, and Harry Stammers who lived at Bradwell House (report here), who designed windows in many churches in England and Wales.
It has been a most interesting project and we have enjoyed compiling the reports, so we hope you enjoy reading them.