The Linford Manor's Grade II* listed Almshouses and adjoining schoolhouse.
As many of our members will know from our recent visit the almshouses and school house are in need of structural renovation and repair. A solution has been found.

The Almshouses were commissioned in 1702 and acted as a form of low-cost community housing up until the 1960s but have since remained largely vacant. The Council is negotiating a 999 year lease of the Almshouses to The Parks Trust so that the repairs can take place  and the almshouses and scholl house form part of the regeneration of Linford Manor Park and has  a true interest in highlighting the almshouses historic significance. The Parks Trust plans to let out the schoolhouse as a residential property and three of the Almshouses as commercial office spaces. For more information:
https://www.mkcommunityhub.com/post/council-plans-to-give-historic-great-linford-almshouses-a-new-lease-of-life
Discover our vision for the future of Milton Keynes green spaces. Milton Keynes' Inspirational Landscapes: Now and Forever.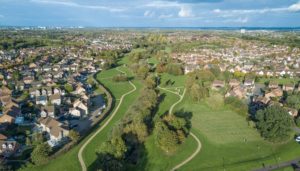 This is report sets out The Parks Trust vision for green infrastructure in Milton Keynes for the future. This is an exciting development which includes future housing, parks, biodiversity, leisure, work environment and the people who live and work in Milton Keynes. Do download the report for more detail:
https://www.theparkstrust.com/blogs/discover-our-vision-for-the-future-of-milton-keynes-green-spaces