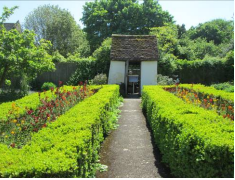 'Contemporary or historical, educational and productive'.  Discovering Buckinghamshire's Museum Gardens.
A talk by Claire de Carle (Chair, Trustee and Research Co-ordinator of Bucks Gardens Trust) to Bucks Archaeological Society on 27 November 2021
Buckinghamshire Gardens Trust have been researching historic parks and gardens of local importance for the last eight years and the resulting reports totaling nearly one hundred are available to view on our website. These reports include three museum gardens: The County Museum, Aylesbury (Ceeley House, home to BAS), High Wycombe (Castle Hill House, the former Chair Museum), and the Cowper & Newton Museum in Olney. In addition, we will look at the herb garden at the Amersham Museum and the period gardens that have been recreated at the Chiltern Open Air Museum at Chalfont St Giles.
This talk will be based on the extensive research carried out by the Bucks Gardens Trust volunteers. We shall take a brief look at the history of each of the museums, the development of their gardens, how they are managed today and how they contribute to the visitor experience.
https://bucksgardenstrust.org.uk/research-and-recording/locally-important-sites/
BAS online via  Zoom or in person. Book via https://bas1.org.uk/lectures-and-talks .
See Events for more information.