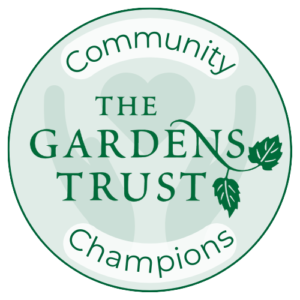 Buckinghamshire Gardens Trust has taken up The Gardens Trust (GT) challenge of sharing garden history stories with new audiences and helping to promote the importance and wonder of historic spaces with more members of the public.
Louise Keil and I ticked and completed the GT online course and received a box of of goodies to run the Garden History Lucky Dip plus prompt sheets to go with the various objects. For our first event Franzi Cheeseman, the Head Gardener of Stoke Poges Memorial Ground and a member of the Bucks GT Gardeners Network kindly invited the Trust to the open day afternoon  for National Gardens Scheme. (NGS) on Sunday 14th May.
We had a really great afternoon, the sun shone, we ate delicious cake, the wisteria was in full bloom and we had a steady stream of visitors from Bucks, London, Slough and Hertfordshire with quite a number of families.  We also had the bee keeper join us (see photograph) but we did get him a separate table outside the gazebo. He was a fantastic attraction and many thought he was part of our display – we did not dissuade them. In fact he is moving to the Chilterns shortly from Slough and has asked if some of our members might be interested in having hives! More details in the future.
The gazebo and colourful bunting made us stand out and we became the meeting point for the guided tours  as people gathered around the display & the bees. The pineapple attracted most attention with a very wide range of ideas of its history and use as decoration on buildings, gates and  signage with reference to Dorneywood where it was used in decoration and there had been pineapple pits. Others were interested in the ha ha "never heard of it"  and "does it work" were several of the comments. The horn bought out stories of various bandstands people had visited especially at seaside resorts, none knew of any locally. The tree seedling and seeds drew some comments and many knew of Kew and the seed bank and one person mentioned "plant hunters".  We distributed  about 100 leaflets and membership forms.
Interestingly a major topic was planning as this site is near Windsor and the garden adjoins Stoke Park which was recently sold. We did a lot of explaining of the role the GT play in planning and we think it would be a really good idea to have a leaflet outlining that role to hand out. Many people said they had never heard of the GT!
We are planning to cover more NGS afternoons if we are invited with Bledlow Manor penciled in on Sunday 11th June in the afternoon (Lord Carrington is our patron) and then a number of Heritage Days in August & September. We may adapt the Lucky Dip objects and have added a tree seedling, a C18 brick, a bunch of rosemary and a real pineapple.  The gazebo & bunting certainly attracted attention and we also now have a banner ( arrived on Monday). You need at least 2 people, preferably 3  as its tends to attract groups of people who then discuss between them personal stories about the objects etc. If you are holding an event you think would benefit from this garden history activity please do contact us. We are also  interested in increasing our volunteers to help deliver this fun activity. Thank you to Joanne Kidd and Peter Miles for their help in making our first event such a success.
Gwen Miles – Bucks Gardens Trust