Enrich the List has a new name. Welcome to the Missing Pieces Project.
Buckinghamshire Gardens Trust, with the expertise of  Clare Butler, a member,  has supported English Heritage listed places for a number of years by adding the research reports/dossiers and photographs to the List each year.
Today (Thursday 11 May) Historic England launched the Missing Pieces Project. We're inviting people to share their pictures and stories of the unique, significant and memorable places on the National Heritage List for England for others to see.
There are more than 400,000 protected places across England to discover. The Missing Pieces Project is all about uncovering their hidden histories and revealing overlooked stories.
Add your piece of the story
All over England are places with stories to tell: from buildings to battlefields, some on your doorstep, others just a day trip away. Their stories are still being written – and they won't be complete until you share your side.
Your view of a place is as unique as you are, so every snapshot and story you add is an important piece of the picture.
And the more pieces of the picture we have, the better we can work together to protect what makes these places special. No single person or organisation knows the whole story of a place. Everyone who visits a place or lives nearby has their own unique piece of the picture.
There are thousands of buildings, monuments, gardens and other places to discover – so wherever you live and wherever you travel, you're bound to find somewhere nearby with a story to tell.
Whether you have a connection to a place already or you're discovering it for the first time, your views add important new pieces to the picture. From phone snaps to scans of vintage photos and architects' drawings, from memories of holidays, school trips and family events to information about grand openings and transformations, your story helps us to understand what makes these places special and significant.
Showing love for favourite places In our new film we hear from people who are passionate about historic places.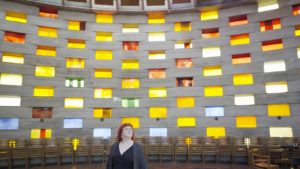 Standup comedian Angela Barnes (BBC Live at the Apollo, Mock the Week, BBC Radio 4 Newsjack, You Can't Take It With You, We Are History podcast) took a nostalgic trip to the Grade II*(star) listed Meeting House at the University of Sussex.  Designed by Sir Basil Spence, this beautiful Brutalist building holds special memories for Angela as a student and first-time voter. It was the stunning venue for her wedding.
Angela said: "I'm a fan of Brutalist architecture. I even chose it as my specialist subject on Celebrity Mastermind…you can't look at a space like this and not think that it's beautiful."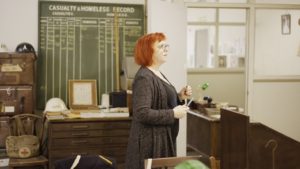 Angela also visited the Grade II listed Civil Defence Centre at Gravesend. This remarkable underground structure was designed as the command post for the local Civil Defence Corps in the event of a Soviet air attack during the early Cold War and is one of the only surviving purpose-built command centres of this period.
Angela said of the 1954 building: "…it's a part of our history and it's important that future generations see what was happening here… that's why it needs to be preserved, so they can come and learn about what happened during that Cold War period."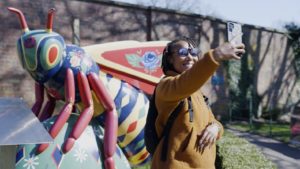 Black Girls Hike founder Rhiane Fatinikun chose Grade II protected Heaton Park, one of her favourite parks in Manchester. Rhiane said: "A park is really the heart of the community because for a lot of people it's their only opportunity to get outside and it's the only green space that they have."
Rhiane added: "A lot of people probably don't realise that there's so many important and significant things that are actually on their doorstep with loads of history to them."
Hist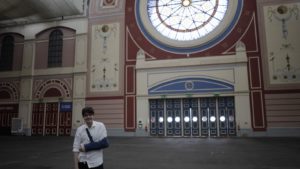 ory PhD student Patrick Hegarty Morrish has been discovering the hidden history of London's Grade II listed Alexandra Palace. Patrick said: "…it was used in World War I as a camp for German and Austrian internees… the Internee Orchestra is perhaps the most interesting part of the place…it was founded in 1915, I believe, so a year into the war, and included, at its peak, nearly 40-something musicians."
Patrick added: "…We've all got different stories to tell about places and they're all an important part of the picture."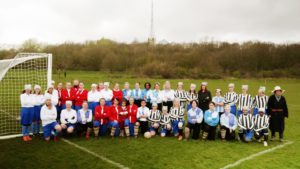 Kate Gerrand, Captain of the Alexandra Park Women's Football Team, revealed the iconic story behind the club's home ground. Kate said: "…it's really important to us because it's where we think the first ever British women's football club game was held in 1895."
Kate added: "…. We have a connection to what happened…people have been making memories here and experiencing significant events every single day."
For more information please contact: Esther Blaine, East of England Public Engagement Manager at Historic England on 07584 365681 or email Esther.Blaine@HistoricEngland.org.uk