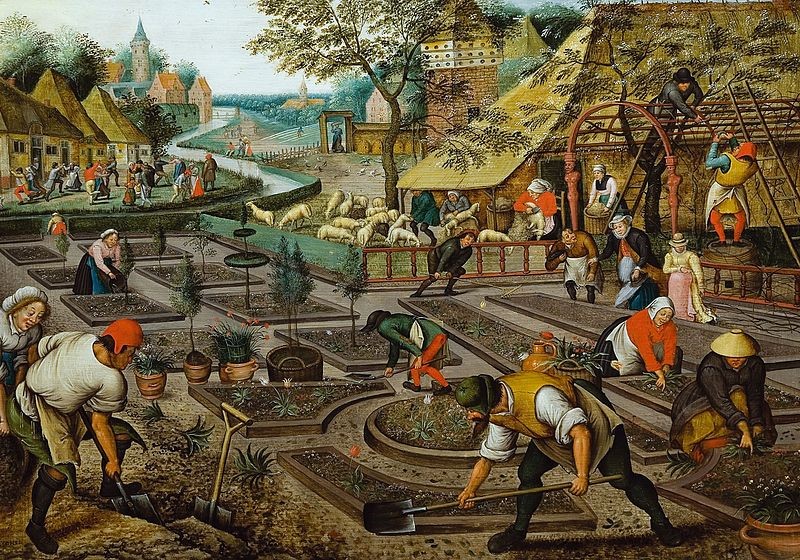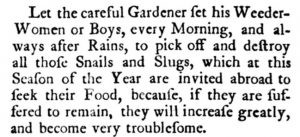 In Stephen Switzer's Practical Husbandman and Planter (1733), he recommends wide paths between beds for ease of access and as we can see from this quote, weeder woman and boys to pick off and destroy snails and slugs every morning!
Who does the weeding in your household and that of your family, neighbours and friends? We suspect it is the women! English Heritage has been investigating Weeding Women: Shaping England's Gardens as part of its Women in History series: https://www.english-heritage.org.uk/learn/histories/women-in-history/weeding-women. It looks at the understated role of women in history who worked in the garden, who were given monotonous tasks such as pest control, or worked as 'bothy women' or given the seasonal work of weeding.
Val Bott in her article 'A Bequest to the weeder' https://nurserygardeners.com notes that it was not until 2006 that she first came across weeder women when she was researching the Chiswick manor of Sutton Court. In the accounts kept by Lord Fauconberg's steward, 1690 to early 1700, they were paid six pence a day. Her research details further examples of employing women to do this work as labourers but whose expertise ensured that only weeds were pulled out rather than prized expensive plants!
The Bucks Gardens Trust has its own examples. With change of ownership the archives of  Hampden House, Buckinghamshire were  deposited with the Buckinghamshire Archives. This treasure trove  of extensive estate records  (c.1252–1931) gives details of dates, names, work and costs in the stewards' accounts/bundles and notebooks, including references to women working in the gardens.
In the Hampden Estate Wood Book (D/MH /30/5) 1696–1706, May 28 1703, Mr Wofson, Head Gardener, recorded that Mary Oliver and another woman were paid to weed the garden at 6d a day; it does not state how many days they were employed. In the 33 Day Books for 1740–1784 and 29 Stewards' Accounts 1737–1791 there are further examples: in 1741 AnnWall was paid 4/- for 8 days' weeding, and in 1748 Jo Mason's son was paid 12/- for a month's weeding while his father built gates and boxed trees (D/MH/29/8).  A full research and recording dossier on Hampden House can be found at https://bucksgardenstrust.org.uk/wp-content/uploads/2020/10/Hampden-Ho-BGT-RR-dossier-30-Sept-20.pdf
These records are only part of a story of gardening women and as 'weeders' their work was mainly seasonal and on large estates. What did they do for the rest of the year – were they multiskilled and worked in other areas of the estate as a flexible labour force? More research is needed. Perhaps you can help.
Bruegel painting: The Four Seasons, Spring by Pieter Bruegel the Younger. In public domain.  National Museum of Arts Romania.  This wonderful painting shows springtime activities, planting, hoeing, weeding, sheep-shearing, dancing, feeding geese and tying in vines, with women very much involved in all areas.
Gwen Miles