The Ian Hamilton Finlay Improvement Garden at Stockwood Park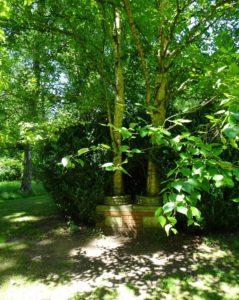 During the lockdown, the Buckinghamshire Gardens Trust was treated to a Zoom talk on the Improvement Garden by Kate Harwood who has spent a considerable time researching the garden and making sure it is protected by its inclusion on the Historic England Register of parks and gardens, at Grade II*. Unfortunately, the gardens at Stockwood were closed throughout the pandemic and have only recently reopened, leaving the gardeners, all one and three-quarters of them, with the Herculean task of bringing back the gardens to their former standard, after two years of neglect. Not a good move by Luton Borough Council, which took the government's offer of furloughing staff to mean that it was acceptable to mothball the garden at a time when it was most needed.
Since the reopening, the head gardener has worked tirelessly to tidy up the Improvement Garden and it did not disappoint. It was a beautiful June day for my visit with a group of fellow garden historians: the sunshine filtered through the trees, creating a relaxing atmosphere despite the low-flying planes from Luton and the nearby M1 motorway.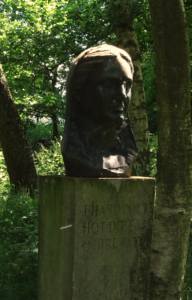 The garden, which contains six sculptures by Ian Hamilton Finlay, opened in 1991. Finlay produced a master plan for the sculptures in 1986 and Bob Burgoyne, the then master gardener at Luton Borough Council, planned the planting scheme with Sue Finlay and executed the design along with his team (how times have changed – I don't think there are many master gardeners employed by Councils in 2022). Finlay never actually visited his creation, preferring to stay up in Scotland at his home Little Sparta, as he suffered from agoraphobia.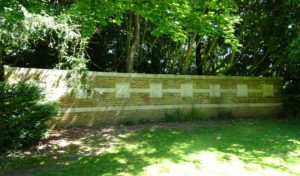 Unfortunately, the first sculpture, a tree plaque which reads: 'I sing for myself and the Muses' is no longer in situ, the ash tree that it was attached to having now died. It is hoped that a new tree will soon be planted in its place and the plaque restored to its rightful position.
For more information on the sculptures go to the Historic England list entry:
https://historicengland.org.uk/listing/the-list/list-entry/1468798
Claire de Carle
Photographs by the author