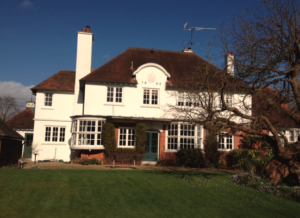 The Gardener's House (formerly part of East Burnham Park)
Near Farnham Royal, Buckinghamshire
Back in 2018, I was researching East Burnham Park for the Bucks Gardens Trust Research & Recording project. Access to the core of the site was proving difficult; however, eventually, I did make contact with Sue Davie, the owner of The Gardener's House and she invited me to visit. Sue told me that it was unlikely that the owner of the core of the site, which included most of the pleasure grounds and a large part of the park, would be willing to let us visit, which explained why he had not replied to our letters.
East Burnham Park was once the garden of Sir Harry Veitch (1840-1924), the foremost nurseryman and horticulturist of his day who developed the park between the  1890s and 1900, not just as a residence but as a showpiece to display numerous plants in an artistic and fashionable manner, including new introductions by plant hunters working for the Veitch company.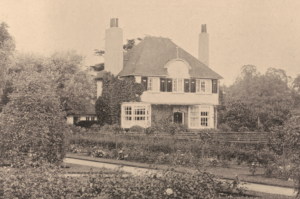 The Gardener's House was built by Veitch in 1892 and is situated east of the stable block and adjacent to the former kitchen garden. It is a substantial building and was covered in creeper with bay windows and tall chimneys, set in its own large plot, which was at one time cultivated to the same standard as the pleasure grounds of the main house (see image right dating from 1909).
It was more substantial than other gardeners' residences (usually described as cottages) of the period, indicating the importance Veitch attached to the position of head gardener. As well as its impressive walled garden, the property has several outbuildings including an old laundry and a steam room. East Burnham Park was divided up in the late C20 and The Gardener's House has been in separate ownership since.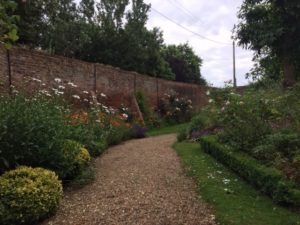 Sue Davie has recently been in touch to say that she is planning to put the house on the market this year, so if you would like a piece of horticultural history and have just under 2 million pounds this wonderful property could be yours.
For the full report go to: https://bucksgardenstrust.org.uk/wp-content/uploads/2019/06/East_Burnham_Park-rvsd_5-2019.pdf
Historic Image 1909 Gdner's House Gardeners Mag_1909_v52_p635_(RHS Lindley Collection)
Current Images Sue Davie and Claire de Carle 2019