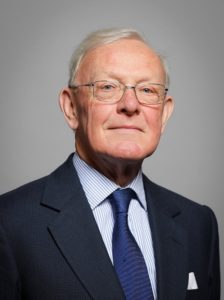 The Trust is delighted to inform the members that Rupert, Lord Carrington has kindly accepted the invitation to become a patron of the Buckinghamshire Gardens Trust. In his letter of acceptance, he congratulated the Trust on reaching the "25th anniversary milestone" and looks forward "to giving whatever support I can".
Lord Carrington is already a life member as his late father, Peter, Lord Carrington was, who joined when the trust was created in 1997. The family also kindly permitted members of the Research and Recording team in 2017 to research and prepare a site dossier of The Manor House, Bledlow and its extensive gardens, including the Lyde. (www.bucksgardenstrust.org.uk/unforgettable-gardens/bledlow-manor/)
Since the accession of Charles III in September, Lord Carrington has taken on the role of Lord Great Chamberlain of England and has been a key figure in the historical events marking the accession and at the State Funeral of Queen Elizabeth II. It was therefore a wonderful surprise to receive a very positive response to our letter. We look forward to meeting our new patron in 2023 but realise that it will be a very busy year for him!
As many of you know David Gladstone of Wotton has been our sole patron for many years and will continue in this honorary role although he now resides mainly in Cumbria.
Claire de Carle,
Chair of Buckinghamshire Gardens Trust
Views of the Manor House, Bledlow which has recently been restored.
Photographs Claire de carle & Gwen Miles