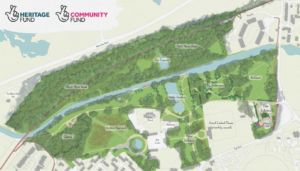 Great Linford Manor Park – works in park
After the Annual General Meeting on Saturday 13th August at The Arts Centre at Great Linford Park, due to the high temperatures  the planned walk was postponed. However,  Ellie Broad, the project director of the work and a member of the Bucks GT gave a talk to show the progress of this exciting project to recreate the water garden of the Pleasure Garden. If you want more details of the work please do look at the excellent Parks Trust website and as the weather cools treat yourself to a day out. We hope to organise a visit to the site early in 2023 and get a further update.
This information is courtesy of The Parks Trust
 https://www.theparkstrust.com/our-work/great-linford-manor-park-heritage-fund-project/works-in-the-park/
The Wilderness is one of the 18th-century English Landscape Garden features that survive in the park. It was the perfect place for a leisurely walk with family or friends and we want to recreate this in the modern park.
Tucked away in the Wilderness are the ruins of the Doric Seat, an 18th-century neo-classical folly that was used as a place to walk out to and as a place to take tea more privately than in the confines of the Manor. A folly is defined as a garden structure that "demonstrates eccentricity or excess rather than practical purpose… They demanded attention and were intended to impress" [1]. Works to the Doric Seat have now been completed. The structure has been reinterpreted as a low stone wall with limestone caps. A metal frame outline of the Neo-Classical portico has been beautifully crafted by metalworkers, Arcangel, and it can be seen from the path alongside the canal. Visitors are welcome to walk around the inside of the Doric Seat; it's a great place for a picnic, as somewhere to relax or to enjoy our Stories in the Park sessions. Look out for new interpretation panels which will explain what the view from the Doric Seat might have looked like, as well as a visualisation window that will show what the structure looked like long ago.
We have also created wheelchair-accessible footpaths to meander through the Wilderness as originally intended, where we have also planted new trees and shrubs inspired by 18th-century planting. A boardwalk now leads underneath the ancient Lime Tree to protect its roots for the future.
The Wilderness is also home to the lime leaf stepping stones, which are one of the playable sculptures in the park. They were created by local stonemason Louis Francis.
Click here to find out more about the 18th-century Pleasure Garden.
[1] Symes, M. (2006) A Glossary of Garden History. Princes Risborough: Shire Publications Ltd.
The Doric Seat – modern interpretation on the original site. Photographs Claire de Carle