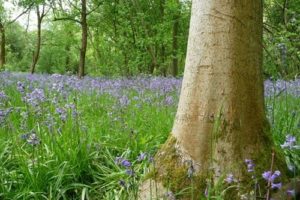 Bluebell time in the ancient woodlands of Buckinghamshire.
Bluebells are a good indicator of ancient woodland and fortunately, we still have a number of those in Buckinghamshire. With the improvement in the weather, you may have noticed the bluebells have started to appear in the Buckinghamshire woodlands.  Bluebells are often associated with fairy folklore and are sometimes called 'fairy thimbles'. Young children can enjoy imagining calling fairies by pretending to ring the bluebells (without touching them of course!).
While this flower is native to western Europe, the UK is home to about half the world's population of bluebells. This vibrant wildflower does important work providing food for pollinating woodland insects while also creating a fantastic spectacle throughout our ancient woodlands.
Did you know:
The bluebell has many names: English bluebell, wild hyacinth, wood bell, bell bottle, Cuckoo's Boots, Wood Hyacinth, Lady's Nightcap and Witches' Thimbles, Hyacinthoides non-scripta
It is against the law to intentionally pick, uproot or destroy bluebells
If you plant bluebells, you should make sure it's the English bluebell, not the Spanish version. This is a more vigorous plant and could out-compete our delicate native flower
Almost half the world's bluebells are found in the UK, they're relatively rare in the rest of the world
Bluebell colonies take a long time to establish – around 5-7 years from seed to flower
Bluebells can take years to recover after footfall damage. If a bluebell's leaves are crushed, they die back from lack of food as the leaves cannot photosynthesize
In the Bronze Age, bluebell sap was used to attach feathers to arrows and has also been used to bind pages in the spines of books.
Where to go for a Bluebell Walk in Buckinghamshire
Below are some of the places where you will find bluebells in the next 4 weeks. If you go online you can check out these and many more. Do send us your photographs – bluebells are notoriously difficult to photograph! websiteadmin@bucksgardenstrust.org.uk
Campbell Park, Milton Keynes (Parks Trust)

Cliveden (NT)
College Wood (Nash near Buckingham)
Coombe Hill – head up to Coombe Hill and from the car park and enter the woods to Lower Scrubs.
Dockey Woods– Part of the Ashridge Estate, chargeable entrance and will get very busy. There are natural barriers restricting access to the bluebells and smaller paths in order to protect them.
Finemere Wood, Aylesbury
Hervines Park – this park in Amersham is far less likely to be busy over the coming weeks but offers a lovely walk in the woods with large open space and is close by to coffee shops.
Howe Park, Milton Keynes
Hughenden (NT)
Linford Wood, Milton Keynes ( Park Trust)
Little Linford Wood, Milton Keynes (Park Trust)
Penn Woods– mentioned in our snowdrops but also large swathes of bluebells and great pubs nearby.
Rushbeds Wood, Bicester
Wendover Woods– lots of bluebells to be seen  and in the surrounding woods as you drive up Aston Hill. You can also enjoy the play trail or cycle trails. the new cafe and car park was finished last year but means it now gets very busy and some days the main gates even get closed before midday.
Westwood Park – enjoy a walk in the woods surrounding Chalfont and Chenies with wonderful views as you head down towards either Chenies or Latimer.