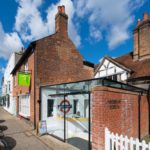 Amersham Museum
All of the museum's in-house exhibitions are FREE to visit after admission to the museum.
Sickness and Health
February to July 2023
How are you feeling? From healing herbs and astrological almanacs, to medicine chests and COVID tests, our temporary exhibition explores medical history in Amersham's past.
If you were sick or injured in past centuries, the options available were often very different from today. You might turn to friends or neighbours for advice or treatment, drawn from plants in the garden or supplies in the kitchen. If you could afford it, you might pay for a doctor to treat you. If you could manage it, you might go to the apothecary or pharmacy to buy a ready-made medicine to make you feel better. If you were extremely unwell or badly injured, you might have to go to the workhouse infirmary, pest house or hospital.
Haddon's Pharmacy, Old Amersham
On show are fascinating objects from our collection including bottles and medicines from King's and Haddon's pharmacies, a medicine chest from the late 1800s and another issued during the Second World War, optometry instruments from Laurie Haddon's optician business, a doctor's bag, and more recent items reflecting the COVID pandemic. Find out about 17th century medical writer John Tanner, medicinal plant expert Maud Grieve (1858-1941), GP Dr Humphrey England and his wife nurse Polly England, and obstetrician Dr Beatrice Turner (1891-1964).
https://amershammuseum.org/events/exhibitions/
We're delighted to announce that, thanks to a grant from the Chalks, Cherries and Chairs project, we are continuing this theme through the spring and summer – and into our beautiful herb garden. We'll be adding information about local plant specialist Maud Grieve (1858-1941), and running events for adults, families and schools with a plants and medicine theme. More details to come in next month's issue, or via our website www.amershammuseum.org