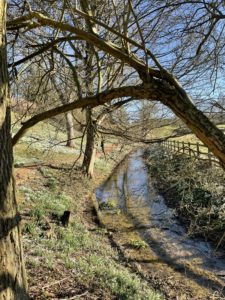 Dear Members
By the time you receive this newsletter, I hope that Spring will have sprung, and we can get out in our gardens, in my case I need to replace all the plants killed by the extremes of weather we experienced in 2022.
Garden visiting will also start again and if you have not already booked on our visits now would be a good time to do so. Our visit to Hall Barn in May is already fully booked, but if you wish to be added to the waiting list, please contact Rosemary Jury enquiries@bucksgardenstrust.org.uk.  We still have places on all other events the first of which is a visit to Batsford Arboretum timed to coincide with blossom season; we hope that the delicate pink cherry blossoms known as 'Sakura' in Japan will put in an appearance.
Members of the council have been working hard on plans for our future, following a successful 25 years we need to ensure that the Trust is in a healthy place to face the challenge of the next 25. Areas we need to consider are, engaging a young audience, networking with other heritage groups, recruitment of new members and our future finance. We will keep you updated on our new initiatives.
The Gardeners Network is already proving a great success and we now have at least 16 members. Our next meeting is on the 30 March at Turn End, Haddenham so if you know of any professional gardeners in Buckinghamshire who would be interested please let me know.
In the next few months I shall be attending a number of events and giving presentations which will give me the opportunity to talk to members of other heritage organisations. During the summer I shall be judging 'Aylesbury in Bloom' with entries from schools and private gardens which will enable me to engage with teachers and find out what is happening with gardening initiatives in schools.
Please don't worry I shall not be working all the time I am off to Mallorca in May to visit the wonderful gardens on the island!!
Hope to catch up with many of you during the coming months.
Claire de Carle (chair)
Buckinghamshire Gardens Trust Spring Newsletter 2023.  Please click onto URL below to get the latest edition of Newsletter