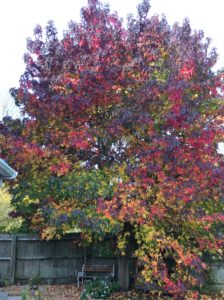 Celebrate trees with us
National Tree Week is the UK's largest annual tree celebration. Each year, the country's conservation sector, volunteer groups and tree-lovers come together to plant thousands of trees to mark the start of the tree planting season.
National Tree Week 2023 is taking place between 25 November – 3 December 2023
How to get involved
Check on the National Tree Week website to see what is happening in your local area. Check out the ways you can get involved over the week!  Do you know of a school, organisation that would benefit from a grant ( see below) We will try to keep you posted.
Celebrate
Trees are heroes of nature. They sustain wildlife, create oxygen, purify our air and are absolutely beautiful. National Tree Week is the perfect time to celebrate our trees and remind everyone about all they do. After all, learning more about all the incredible things trees do is an important first step on our journey to a tree-filled future. So, any way you can, whether its sharing the camaign on social media, an email to colleagues, taking part in our competition, or just talking to friends, let's celebrate our trees!
Plant
The winter planting season is upon us so it's the perfect time to get outdoors and get planting. Trees and hedgerows are some of the most powerful tools we have in the fight against climate change. And the good news is that we can all make a difference by planting a tree! Whether you plant a tree in a pot on your doorstep, a hedge in your garden or organise a community event at a local park, every tree will help us grow a greener future together. Download our tree planting guide to find out more or get in touch with your local Tree Warden Network and find out whether they're organising any planting events near you? 
Donate
Help us fill the nation's schools with orchards!
Thank you to everyone who helped us over National Tree Week to raise £20,000 for our Orchards for Schools programme. 80,000 fruit trees and fruiting hedgerows have already been planted by young people in over 2,000 schools through the scheme, inspiring pupils and teachers around the country to get outdoors, plant and care for trees. Thanks to your generosity hundreds more children will be able to plant their very own trees!
Grants – Funding and support for community tree, hedgerow and orchard establishment
Branching Out – apply now for grants from £250 to £2,500
The Tree Council grants programme, Branching Out is now OPEN for applications from community groups, schools, small registered charities, and Tree Warden Networks seeking to establish trees, hedgerows, and orchards in the 2023/24 planting season.
Branching Out provides grants ranging from £250 to £2,500 in value – with a streamlined process resulting in quicker decision making for those seeking funding below £500.
Applying is really simple, with lots of supplementary information available, and you will be supported throughout by our dedicated grants team.
Begin your community planting project here. https://treecouncil.org.uk/what-we-do/planting-and-care/our-grants/branching-out/
Deadline for applications: Sunday 3 December 2023
Orchards for Schools