Standing silent yet messaging the dead, comforted in the shadows of the chapel, ten weathered white and grey headstones commemorate Eton parish military fallen of two world wars.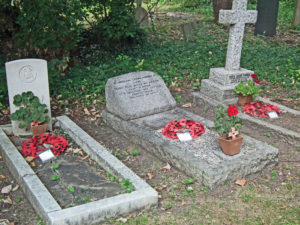 With Remembrance this week Brian Hoare has sent in a  rather sad piece, with photographs,  on the memorials in the Eton (St John) Garden Cemetery following his 'Ghosts and Graves' in the Summer 2022 issue and Dr. Sarah' Rutherford's  report on the Cemetery.
Forwarded by Peter Eaton, the Editor of 'Eton Matters' .
The memorials  commemorated by the Commonwealth War Graves Commission (CWGC) are:
BASIL MARK FISHER  Flying officer 72382, 111 Squadron , RAF volunteer Reserve . Died 15 August 1940, age 23. Grave 41 with cross.
DONALD GEORGE MCINTYRE ROBERTSON Sergeant 5389581 First Battalion Oxford and Bucks Light Infantry. Died 22 November 1944. Grave 37.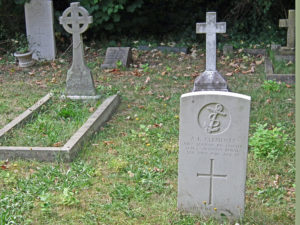 EDGAR LAURENCE SMITH Captain 201024 Intelligence Corps. Died 19 October 1945. Row 16 Grave 27.
CHRISTOPHER AUBREY COOK Leading Radio Electricians Mate L/FX 765786. HMS Simbang, Royal Navy. Died 26 November 1947. Row 15 Grave 37.
ALBERT EDWARD CLEMENTS Able Seaman, Royal Navy J /18518 (PO) HMS "Princess Royal". Died 5 June 1916, age 19.
GEOFFREY HUGH WILLOUGHBY St QUINTIN Royal Fusiliers G/74148. Died 6 December 1918, age 19.
A STOREY Corporal Royal Army Medical Corps 67412. Died 20 November 1919. Grave 1.12.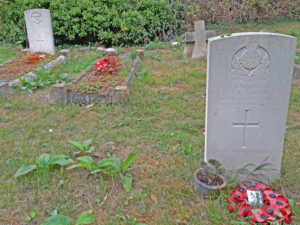 JJ GREEN Driver 692 Royal Engineers. Died 22 May 1919, age 39.
JB WELCH J55636 Boy Second Class HMS "Powerful". Died 14 November 1916; aged 17. Grave 8.6.
RONALD VICTOR PARDY Sergeant 150 Squadron, Royal Air Force Volunteer Reserve. Died 27 December 1919, age 19 years.
Further details presently known are:
Albert Clements, served on the lead battlecruiser HMS Princess Royal, which was hit nine times, died as a result of injuries incurred on the initial combat of 31 May 1916, the first day of the historic Battle of Jutland, widely considered as the greatest sea battle of the First World War.
J B (John Benjamin) Welch was the son of Eton College House Porter, Frank Welch, born at 8 Eton Square and baptised in January 1900. The latter verification of birth date enabled him to enrol legally for military service as a trainee (Boy Second class) but not officially allowed to fight; many boys lied about their age in order to do so for their country.
Basil Mark Fisher was the younger of two Eton College brothers, both members of the "triple one "Hurricane" Squadron. Basil was killed in tragic circumstances in action on 15 August 1940 at the height of the Battle of Britain. In a dog fight with two Luftwaffe planes his Hurricane was hit and caught fire. He bailed out with his parachute burning and fell to his death, his plane crashing to earth. He was 23 years old. His brother witnessed the event from his own Hurricane which survived.
We will remember them.
Dulce et Decorum est pro patria mori (It is sweet and fitting to die for one's country)
References:
Eton St John Cemetery; CWGC (Commonwealth War Graves Commission); Imperial War Museum; Poetic Expression; Wilfred Owen; Photos Peter Eaton
If anyone reading this has any information on any of these local people who gave their lives please contact the editor on chairman@etoncommunity.co.uk