Volunteer as a Gardens Trust Community Champion for Buckinghamshire
Buckinghamshire Gardens Trust has been offered the opportunity for a member volunteer to join the GT Community Champions and help
share our passion for historic parks, gardens and other designed
landscapes, and our purpose to protect them, within the local community.
We're looking for volunteers to deliver a one off 'Garden History Lucky Dip' activity. The aim of this activity is to share garden history stories with new audiences and help us to promote the importance and wonder of these historic spaces with more members of the public.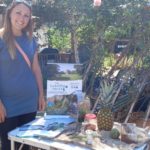 The photograph shows Frankie Taylor ready to share the Lucky Dip activity.  More details found at:
Garden History Lucky Dip Entry Level
By delivering this activity to a local community group and becoming a Gardens Trust Community Champion, you will be helping to share the GT mission and increase awareness and support of vulnerable historic designed landscapes across Britain.
Who are we looking for
We're looking for someone who:
Can deliver at least one Garden History Lucky
Dip activity session to at least 15 people before
August 2023
Is available for an activity training session to be delivered in early 2023
Would like the opportunity to learn more about garden history
Wants to help protect and promote historic parks and gardens in the UK
No prior experience in heritage or knowledge of garden history is required!
What we can offer
In return what we can offer is:
Relevant training needed to deliver the session
A resource pack containing all the materials needed for the Garden History Lucky Dip activity (which you're free to keep and reuse!)
Support from our Audience Development and
Engagement Officer and the wider Gardens Trust team
An opportunity to be involved in future events with the Gardens Trust
A year's free membership of the Gardens Trust (including discounted tickets for events, membership magazine and our respected journal Garden History)
How to Apply
 If you're interested in being a GT Community Champion, Frankie Taylor would love to hear from you.
Please complete and return the Community Champions Application Form by the 30th January 2023.
This opportunity is part of the Engaging with Our Future Project made possible with support from the National Lottery Heritage Fund.
They are looking for volunteers to help deliver a small, one-off outreach activity (delivered at a time and place that suits you) in exchange for a free activity training session, a free resource pack (with everything you need, that you're free to keep and reuse) as well as a year's free membership of the Gardens Trust.
Frankie Taylor: Audience Development and Engagement Officer    07719 399 882
Engaging with Our Future NLHF funded project at The Gardens Trust frankie.taylor@thegardenstrust.org