Visit to Aston Pottery and Gardens- near Bampton OX18 2BT
This visit was a complete contrast to our recent tours of historic designed landscapes.
The inspiration behind the whole area, Stephen Baughman himself showed us round the fascinating gardens which now enhance the Aston Pottery he created from a collapsed cowshed!  Energetic and enthusiastic, he treated us to a series of beautiful borders each of which he had designed individually and planted to a particular plan.
After a brief introduction to the history of the site, we were led between two dramatic rows of pots planted with huge specimens of Agapanthus Queen Mum and stunning Eucomis (pineapple lilies).
The welcome shade of an avenue of pleached hornbeams protects the masses of perennial plants in the wide borders which line the route towards the focal point formed by the "summer house".
We were overwhelmed by the huge "Hot Bank" of exotic plants framed by the burgundy shades of a copper beech hedge.  Kniphofia, alstroemeria, salvias, cannas, penstemon and fuchsias tumble down the bank between lobelia tupa, rudbeckia, penstemon, dahlias, helianthus and agastache. Their vibrant colours attracted dozens of butterflies.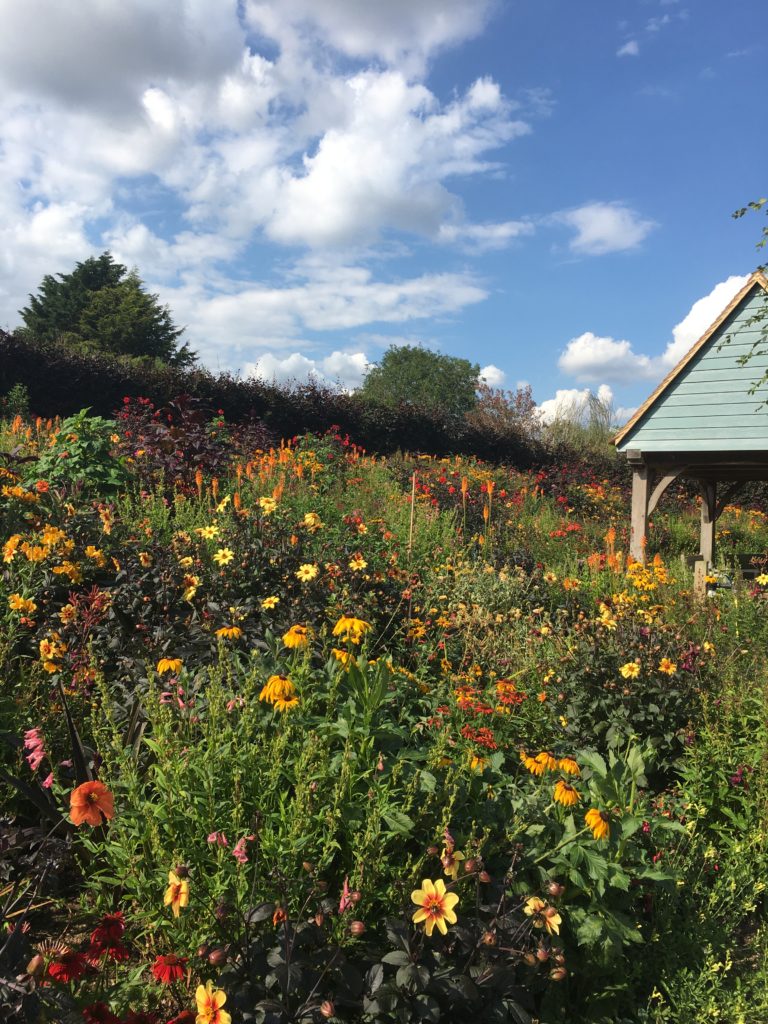 The newly-created annual border is lined with many varieties of sunflower and crammed with thousands of plants all grown on site from seed and planted out as plugs. The aim is to give colour throughout the summer and well into autumn. We saw cleome, amaranthus, asters, cosmos, nicotiana, zinnias, ageratum, antirrhinum and rudbeckias to name but a few.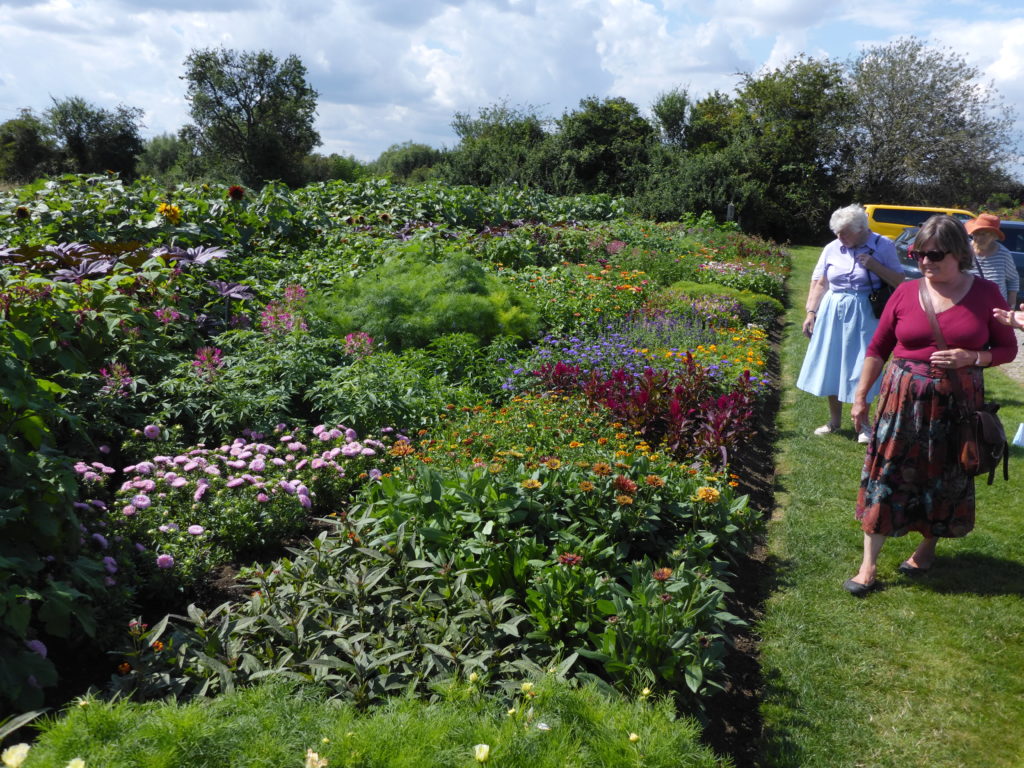 The last bed we saw was devoted to different varieties of dahlias all surrounded by grasses and planted in a triangular pattern. Their secrets include tonnes of mushroom compost and a digger!
Exhilarated and inspired, we wandered to the cafe to sample delicious food and then explore the shop with its hand-decorated pottery and range of contemporary gifts.
I am still buzzing about the visit and will return very soon. Thank you to Rosemary for arranging it all.
Report: Sheila Meekums
Guide: Stephen Baughman (owner)
Photographs:
1. Feature image Barbara Angwin  2. BGT group -Valerie Joynt
3. Hot border- Sheila Meekum   4. Annual border – Sheila Meekum