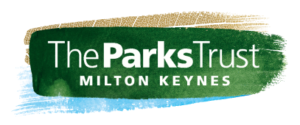 Press Release:  7th June 2023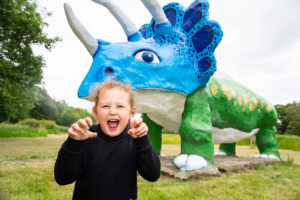 ROAR-SOME NEW DESIGN FOR ICONIC PUBLIC ARTWORK
The Parks Trust has officially unveiled the stunning new design that now graces MK's much-loved Triceratops at Peartree Bridge.
Earlier this year, the charity launched a competition to find a budding local designer who could create a new 'skin' for the 8.7m long dinosaur sculpture which was in need of restoration.
With its bright colours and floral features, a design by 5 year old Freya Bundy from Peartree Bridge really caught the eye of the expert judges who declared it the winner and commissioned art technicians Aaron Head and Emma Wilde to bring it to life.
Triceratops is one of dozens of pieces of public art cared for by The Parks Trust. It was created in 1979 by Bill Billings, a truck driver who learned to sculpt with wire mesh and concrete when he volunteered on a community art project to create the Concrete Cows. As it stands outdoors in all weathers, Triceratops needs to be repainted from time to time and its various incarnations over the years are always a local talking point.
Commenting on the new design, Julie Dawes, Events & Community Engagement Manager at The Parks Trust, said, "All schools and community groups close to Peartree Bridge were invited to take part in our design competition and we were thrilled to see so many brilliant entries. Our judges chose Freya's submission because it blended natural features such as flowers with bold colours that would brighten the day of passers-by! The final result looks amazing, and we are grateful to everyone involved in the project, especially Freya who has rightfully earned her place in local history today!"
You can find more information about public art in the parks of Milton Keynes at theparkstrust.com/publicart
About The Parks Trust
Established as a charity in 1992 The Parks Trust expertly cares for over 6,000 acres of green space in Milton Keynes including river valleys, ancient woodlands, lakes, parks and landscaped areas along the city's grid roads.
In addition to managing and developing local landscapes, the charity's staff and volunteers also work hard to support local wildlife and biodiversity, provide valuable facilities for park users, deliver extensive education programmes and connect communities with events and activities.
In most towns and cities, parkland is owned by the local authority, but Milton Keynes' founders were pioneers and decided to do things differently. Their vision was to create a new town where the parkland and landscapes would be protected forever by a charity that was separate from local government. Doing so would ensure that, as the new town grew, its green spaces would never be compromised or required to fight for funding.
The Parks Trust was given an endowment of cash and commercial property when it was set up thirty years ago and returns on these investments generate the primary source of income required to fund its wide-ranging work.
As Milton Keynes grows, so does The Parks Trust. Each year, the charity takes on new green spaces and endowments from developers and ensures that all new areas of the city benefit from the same quality of inspiring, connected landscape.
The Parks Trust is a member of The Buckinghamshire Gardens Trust