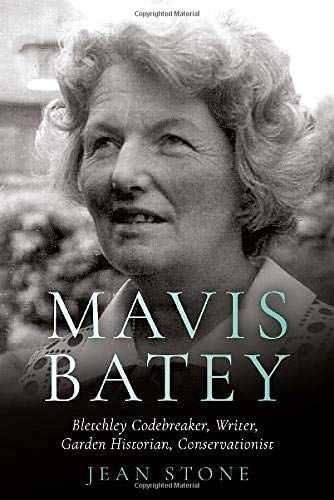 At the declaration of World War II in September 1939 Mavis Batey, then studying German Romanticism, abandoned her studies to do her duty for her country.  At Bletchley Park, Britain's best keep secret, she became one of the first British codebreakers, a pioneer, breaking codes vital to bringing peace.
Jean Stone's unique biography of Mavis takes the reader through the war to the arrival of peace when she became an important figure in conservation.  She was appointed President of the Garden History Society (now The Gardens Trust) which, under her watch, became a campaigning force for the protection of landscapes, parks and gardens of historic interest.
She lobbied Parliament fighting threats of encroachment and misuse of land. Acts of Parliament were passed, English Heritage was established, grants were introduced and Historic gardens became officially recognised as essential components of European culture.  The present Historic England 'Register of Parks and Gardens of Special Historic Interest in England' came into being.
In her later years Mavis enjoyed a more relaxed life with time to write books. She was involved with the creation of an American Garden Trail at Bletchley Park and enjoyed working on the Thames Landscape Strategy, culminating in a Heritage Lottery Grant appeal to restore this world-famous landscape.
In 1985 Mavis Batey was awarded the MBE for Services to the preservation of Historic Gardens and, in 1989, The RHS Veitch Memorial Medal.  Born in 1921 she died in 2013.
How to order:
Jean Stone, MA, Grad.dip.Cons (AA), FRSA, is author of a number of garden related books.   She lives in Henley-on-Thames and is pleased to offer signed copies of 'Mavis Batey:  Bletchley Codebreaker, Writer, Garden Historian, Conservationist'
Special offer to Buckinghamshire Gardens Trust members and friends @ £18.99 to include postage and packing.
Please contact:  enquiries@bucksgardentrust.org.uk or 01296 715491 should you wish to place an order.