News from Michael Hunt, Bucks GT tree specialist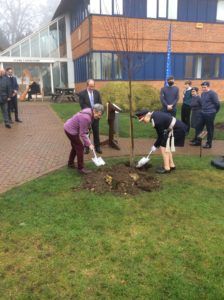 I've been out and about again for trees and this time it was to attend at Buckingham University a ceremony to plant an avenue of seven Prunus Sargentii (north Japanese hill cherry) and eighteen London Plane trees as part of Her Majesty's Platinum Jubilee Green Canopy. The cherry trees have been planted on the path between the Beloff lawn and the Clore Labarotary on the Hunter Campus and the London Planes along the circular walk.
In the first photograph, the planting is being carried out by The Mayor of Buckingham, Councillor Margaret Gateley, and Countess Howe, Her Majesty's Lord-Lieutenant of Buckinghamshire with Vice-Chancellor Professor James Tooley.
In the second photograph, Countess Howe is giving the address to those present which was followed by members of Buckingham Air Cadets and Scout Group assisting with the planting of the avenue of trees. As you can see it was a rather misty and damp day.
It was a pleasant occasion with music played on a harp by a medical student at the university who had composed a piece to celebrate the occasion.
Jubilee Green Canopy  Planting: If you have local events which celebrate the planting of trees for the canopy Jubilee please take photographs (ask permission first) and then send them to newsletter@bucksgardenstrust.org.uk