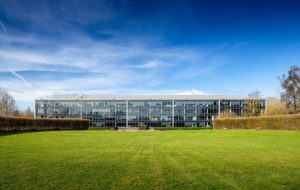 Broadwater Park, Denham, Buckinghamshire © Historic England DP247334.
Heritage England has added 24 sites representing some of the best post-war designed landscapes and their features to the National Heritage List for England. This latest list comes from "Compiling the Record" which the Gardens Trust initiated with Historic England in 2017. Karen Fitzsimon, a Landscape Architect and Garden Historian worked with the Gardens Trust on this listing project.
Two of these sites are in Buckinghamshire, Campbell Park in Milton Keynes described by Neil Higson, (Chief Landscape Architect for Milton Keynes Corporation from 1977)  as the "labyrinth of freedom " for Milton Keynes citizens and Broadwater Park, Denham, a Business Park development post 1970's.They are Grade II status on the National Register  of Historic Parks and Gardens.
Dominic Cole, president of The Gardens Trust, said: "Twentieth-century heritage landscapes have often been overlooked and undervalued, so we hope that these additions to the register will throw a spotlight on the importance and quality of post-war designed landscapes."
Broadwater Park is a commercial landscape designed in 1982-1984 by Preben Jakobsen, with the associated office building, by Elsom Pack Roberts (EPR) for the National Water Council.  Jakobsen became an acclaimed specialist in creating landscapes for the wave of commercial and public sector office developments built on suburban sites in the 1980s.
Broadwater Park is the most extensive and best surviving example of his work. Jakobsen was preoccupied with geometry in his design, and he considered order, structure and a design skeleton all essential components of a good landscape. The site is rationally planned, combining formal and traditional elements to form a series of distinct areas. The layout is informed by the mirrored office building, designed at the same time with input from Jakobsen.( https://historicengland.org.uk/listing/the-list/list-entry/1466908)

Further information: https://historicengland.org.uk/listing/the-list/list-entry/1466908
Websites:
Hal Moggridge, 'Obituary: Preben Jakobsen (1934 -2012)', 14 March 2012, Landscape Institute, accessed 07/05/2020 from https://www.landscapeinstitute.org/news/obituary-preben-jakobsen-19342012/
Karen Fitzsimon, 'Drawing on Denmark – the mid-to-late twentieth-century landscape practice of Preben Jakobsen in Britain', 20 March 2017, Landscape Institute, accessed 07/05/2020 from https://www.landscapeinstitute.org/blog/preben-jakobsen-britain/
List of Jakobsen's files held by Reading University's special collections (MERL), accessed 23/10/2019 from https://merl.reading.ac.uk/wp-content/uploads/sites/20/2017/04/AR-JAK_project-files-only.pdf
Other
Karen Fitzsimon, 'Order in the Landscape: Rediscovering Preben Jakobsen', MA (Garden History), University of Buckingham, 2015