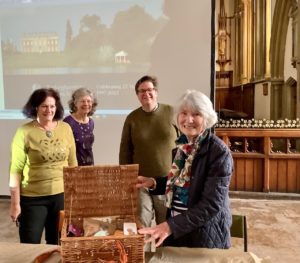 The Annual General Meeting of the Buckinghamshire Gardens Trust was held at the St. Mary's Church, Aylesbury on Saturday 30th October 2021 at 2pm with 40 attending the AGM.
Rosemary Jury, the retiring Chair, thanked her present  Officers, Trustees and Council Members for their support during a year that has for many people been challenging. The Bucks Gardens Trust has continued its growth of the membership, the Research and Recording Projects and used "zoom" for talks and meetings. The summer has seen some return to "normal" with five well supported visits taking place.
The following Officers, Trustees and Council Members were elected:
Officers: Chair: Claire de Carle,  Vice Chair: Michael Thompson;  Honorary Secretary: Kathy Jackson;  Treasurer: Christina Thompson; Membership Secretary: Sarah Gray;  Media Officer: Eleanor Broad.
Trustees: Claire de Carle, Rosemary Jury, Christina Thompson, Michael Thompson (1 vacancy)
Council members: David Hillier,  Michael Hunt (Tree specialist), Geoff Huntingford (R & R), Rosemary Jury (Events), Gwen Miles (Newsletter & Website Administrator), Joanne Mirzoeff (Planning), Dr Sarah Rutherford (Research & Recording, Planning)
2022 will be the 25th Anniversary of the Buckinghamshire Gardens Trust with many of its founding members still actively supporting it. A full programme of talks and visits has been planned for the year and a specially published calendar of members photographs of "Unforgettable Gardens of Buckinghamshire" made available for a £5 donation (see newsletter@bucksgardenstrust.org.uk or enquiries@bucksgardenstrust.org.uk ) to order your copies.
Following the AGM Richard Wheeler gave an enlightening talk on "The Georgian Visitor". See separate report.