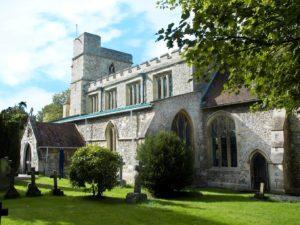 Claire de Carle welcomed  Trust members to St Dunstan's Church, Monks Risborough for the 26th AGM of Buckinghamshire Gardens Trust on Saturday 22nd July. This was a rather unusual venue but its central location in Buckinghamshire, in the oldest recorded parish in Britain between the ancient roads of the Upper Icknield and Lower Icknield Way and  the promise of two excellent talks plus tea and cake drew an audience of  over 40 members which increased with locals coming to join for the two talks.
The AGM proceedings went smoothly with two more Trustees invited to join the Trust. Amongst highlights of the year was the development of the Gardener's Network and the Community Champions to encourage an interest and knowledge in Garden History and a new policy on tickets and refunds was agreed now that most of the booking is through "Ticketsource"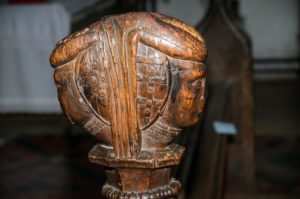 The Reverend Peter Godden gave a  lively talk on the history of the church taking in a number of artifacts which have survived and signify its long history. He also mentioned that pews were a relatively modern innovation as congregations always stood until the late C18 & C19 with perhaps a bench around the sides. Amongst the artifacts the church has is a very good collection of Penn Tiles (comparable to Windsor Castle), a C13 Aylesbury Font (one of 25 from a quarry near St Albans), two large medieval pews with oak posts finished with a  carved Knight, a Squire, a Lady and servant which were probably in originally in the chancel. The stained windows are now mainly Victorian but some medieval glass remains including the Fragment window made up of medieval glass discovered in the church yard  some years ago.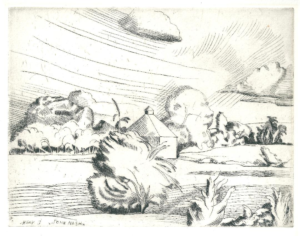 Joanne Mirzoeff gave an excellent talk on John Nash and other related artists and their gardens who had lived in the area of Monks Risborough, Whiteleaf and Meadle which she has been researching. The talk was illustrated with a number of the paintings which the artist did over the years that he lived and worked in the area, including the drawing of the  Dovecot in the St Dunstan's Park. John Nash lived in Meadle for  about 20 years  and the present owner of his house came to the talk; it is interesting to note that many of the plants and flowers which John painted still exist in the garden which has largely remained unchanged.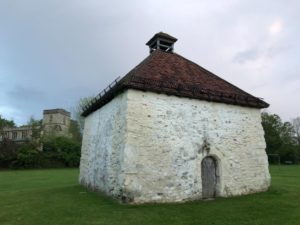 After an excellent tea, Jo lead a walk round the hamlet of Monks Risborough pointing out where John had lived before moving to Meadle, the Dovecot and of course the view of the cross at Whiteleaf and its hill, all of which were featured in his  art work and many others.
A most successful AGM .