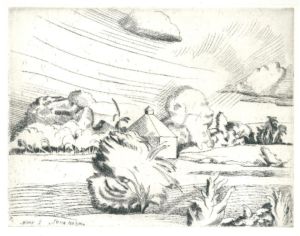 John Nash and the Dovecote
Over the last year, we have all developed an increasing appreciation of our open spaces ranging from public parks, designed landscapes or rural countryside. They are places where we have enjoyed the beauty of nature, found comfort away from these difficult times and exercised our minds and our bodies.
A century ago, in the years following the First World War, a similar situation was happening as many people needed escape from the horrors of war and sought out the peaceful and idyllic rural England that they had fought to protect. One of those was the artist, John Nash, who had experienced war at first hand serving at the Battles of Passchendaele and Cambrai. With his wife Christine Kühlenthal, they stayed in Whiteleaf at the Red Lion Pub and 'The Other Cottage' the home of fellow war artist, Francis Unwin. In 1921 they moved to 'Haven Cottage' in Monks Risborough before settling at   'Lane End' in Meadle where they lived for 20 years. Nash's output during this period captured the beauty of the area, particularly the woods around Whiteleaf and his garden and the landscape around his Meadle home.
Editor: Gwen Miles          Sub-Editor: Clare Butler
Download:  bucksgardenstrust.org.uk/…/BGT-May-2021-Newsletter-final-copy-4.pdf