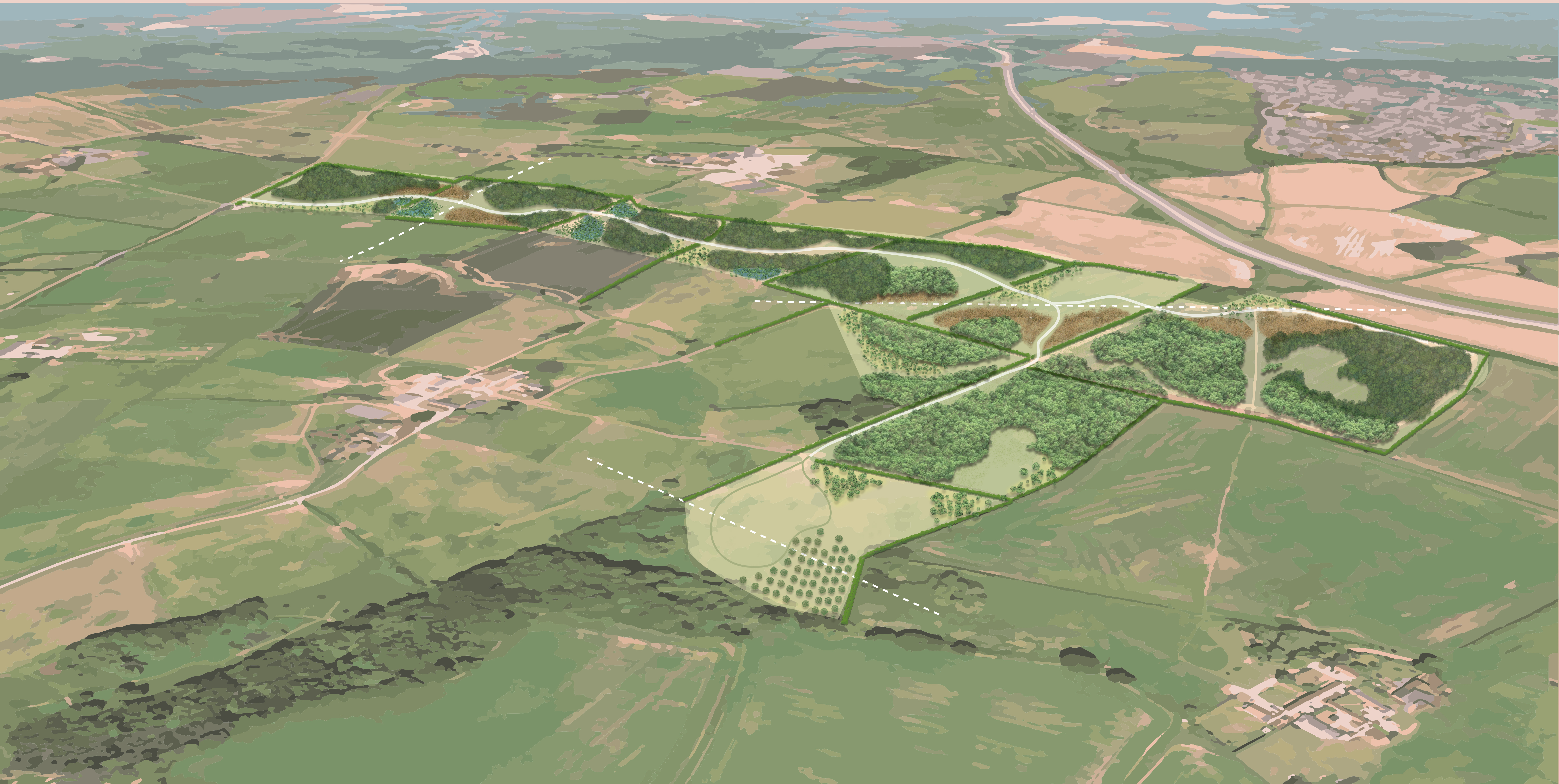 This is a brief outline of the presentation given at the public consultation meeting last week at Wing Village Hall. There was a display of maps and photograph and the consultation finished on Monday 28th November. Sheila Meekum is a member of Bucks GT and involved in a variety of projects including a Forest School.
The Wing Woods Citizen Space is part of Buckinghamshire County Council's (Bucks CC)Climate Change and Clean Air Strategy. This includes a pledge to plant 543000 trees by 2031.
Bucks CC will lease land to Forestry England who will develop, plant and manage the new woodland areas for the benefit of wildlife and people. (Wendover Woods is one of their most popular sites in our area) Located just north of Linslade and south of Liscombe Park, the site of Wing Woods currently consists of gently undulating arable land and a few marshy areas( see above and link)
The proposed Wing Woods scheme was shown in a series of maps, photographs and annotated drawings. The 51 hectare site will attempt to create new habitats and ecosystems including woodland, marshland and open areas. The woods will contain species chosen for their ability to resist climate change. It is hoped the trees will reduce soil erosion and improve carbon storage. Perimeter paths will be provided and a central sinuous ride which will be accessible to all users. These areas will provide new recreational facilities which may enhance people's health and well being. A community orchard is also proposed.
From discussions with several people involved in the Wing Woods proposals,Julia Matthews, who delivered the presentations, indicated that Mrs Bonsor (from Liscombe Park House Estate) is keen on the plans for Wing Woods and proposed an extending the designs for the woodland North towards the woods surrounding Liscombe Park business and equestrian centre, and Liscombe Park House woodlands to create environmental corridors connecting existing woodlands. It was also suggested that the Liscombe Park equestrian centre would benefit from the scheme as riders could use the new rides created in Wing Woods if suitable access points were included
The proposal states that the perimeter planting along the southern boundary of the Liscombe estate will be preserved as it is an important hedgerow feature and also contains mature trees.
Animated and positive discussions followed the presentation.
Link: https://consult.forestryengland.uk/comments/wing-woods/
07/12/2022 Note: addendum paragraph 5 this has now been corrected to reflect the correct ownership of Liscombe Park.
The ownership  of Liscombe Park business centre and equestrian centre  is "other owners", the land surrounding Liscombe Park business centre is owned by "Buckinghamshire Council", and Liscombe Park House estate is owned by "the Bonsors".
Gwen Miles,Website administrator