Stoke Poges Memorial Gardens
Well, you learn something every day. I knew of William Robinson as the proponent of revolutionary but hugely influential ideas about naturalistic planting, put forward in such books as The Wild Garden (1870) and The English Flower Garden (1883); and about his arguments against architects' involvement in garden design (Garden Design and Architects' Gardens, 1892). But among his prodigious output was a volume called God's Acre Beautiful, Or, The Cemeteries of the Future, in which he applied his gardening aesthetic to urban churchyards and cemeteries, which he thought should be uncluttered by tombstones and memorials. This campaign included trying to convince an unwilling public of the advantages of cremation over burial, and the book's publication in 1880 predates the legalisation of cremation by four years. A 1902 Act of Parliament enabled local authorities to build crematoria; one of the first was at Golders Green where landscape design was considered from the outset and Robinson's design of the gardens with open lawns, flowerbeds and woodland gardens became a model for crematoria settings for much of the 20th century. The terms 'gardens of rest' and 'gardens of remembrance' began to be used in the 1920s.
Opposition to cremation persisted – in 1930, cremations accounted for less than 5 per cent of all funerals – but adoption by members of the Royal family, leading politicians and Anglican clergymen, and then the lifting of a Catholic ban on the practice in the 1960s, gradually led to today's position of around 75 per cent of people opting to be cremated.
Stoke Poges Memorial Gardens (Grade I) are unusual, though not unique, in being a landscape for cremated remains unconnected with a crematorium. They exist through the generosity of Noel Mobbs (not yet 'Sir'; 1878–1959), who had bought Stoke Park in 1928. Stoke Park, at one time owned by the Penn gamily and with landscaping by Brown and Repton, had been turned into a golf course and the UK's first country club in the early 20th century, and soon afterwards part of the park and surrounding land was sold for housing (before World War II there was no legislation preventing unrestricted development: builders could build whatever and wherever they liked). Gray's Meadow next to the church, containing Gray's Monument and the Penn memorial, had been saved by public appeal and made over to the National Trust in the 1920s. Mobbs acquired 20 acres (8 ha) of land south of St Giles church to further protect the tranquil rural setting of the building that had inspired Thomas Gray's 1751 'Elegy Written in a Country Churchyard', and to provide a Memorial Garden to be a 'living memorial to the dead and of solace to the bereaved'. The land was dedicated as 'non-denominational grounds' in 1935 and given to Eton Rural District Council in 1971 (later subsumed into South Bucks District which in turn has now become part of Buckinghamshire Council). Significant restoration work was carried out during 2001–2004, a project supported by the Heritage Lottery Fund, South Bucks District Council and the Mobbs Memorial Trust.
The gardens were designed by Edward White (1873–1952), a partner of Milner, Son & White, a leading landscape architect firm of the day. White had a great interest in the cremation movement and was also responsible for the development of the gardens at other major cemeteries and crematoria in the late 1930s. The Stoke Poges plan was completed in 1937. The gardens were to contain no buildings or monuments as in a cemetery; small gardens and plots were available for purchase for the repose of ashes but the landscape was designed as a complete garden with overall unity.
At the main entrance at Church Cottage south-east of the church is a little museum relating to the Penn family and Thomas Gray. From here you follow a westward avenue bisecting the site through lawns to a circular stone pool set in a ring of lawn, with a central fountain of cherubs with a swan.
Beyond this the walk leads up a flight of stone steps, edged by balustrading and decorated with four urns showing the Four Seasons, to the area of formal gardens. Paths off each side of the main walk provide access to the yew-hedged areas which line either side of the central path, kept as memorials to individuals or family groups. The walk continues through an ironwork gateway, past raised parterre gardens on either side, each one a knot garden worked in low box hedges woven between stone paths, enclosed by clipped yew hedges. From here the main path, at this point sunken between raised yew hedges, reaches the entrance to the Colonnade Garden.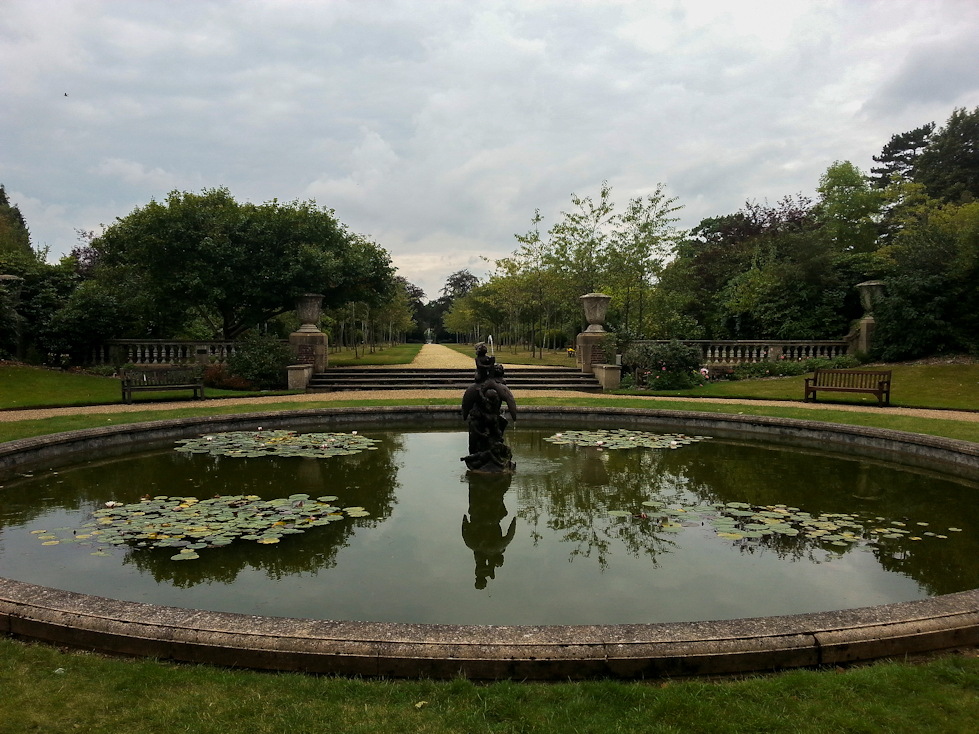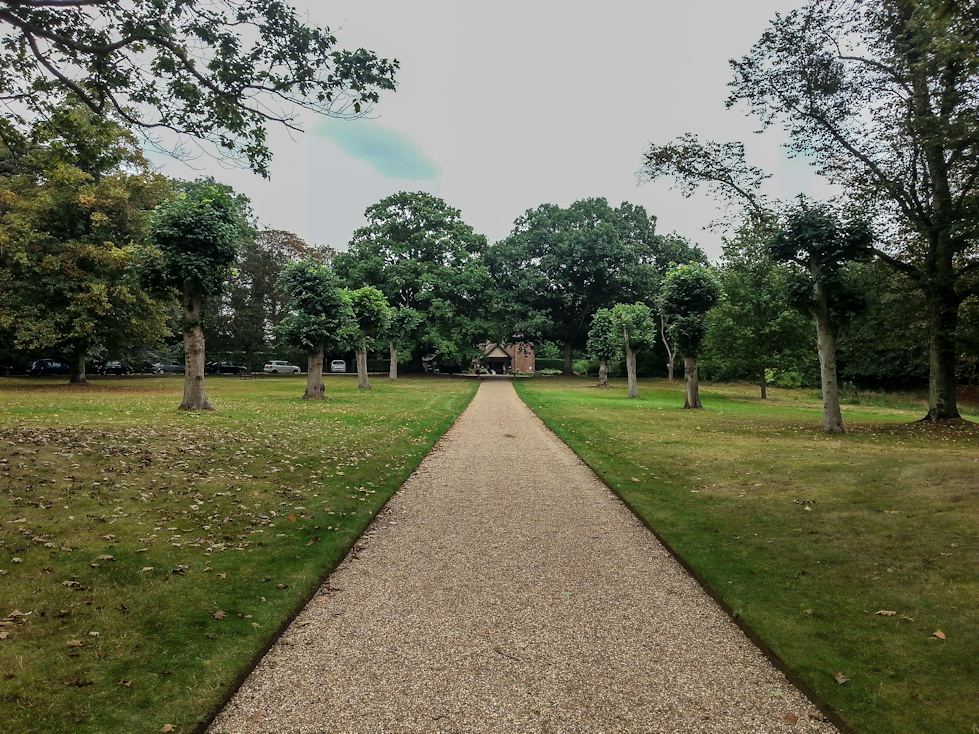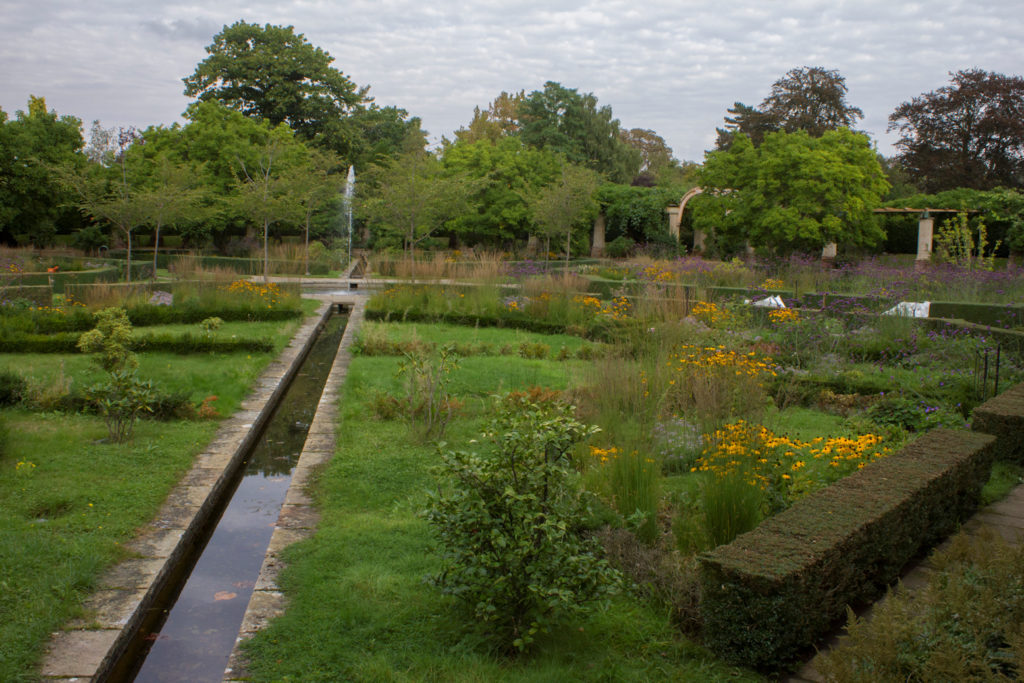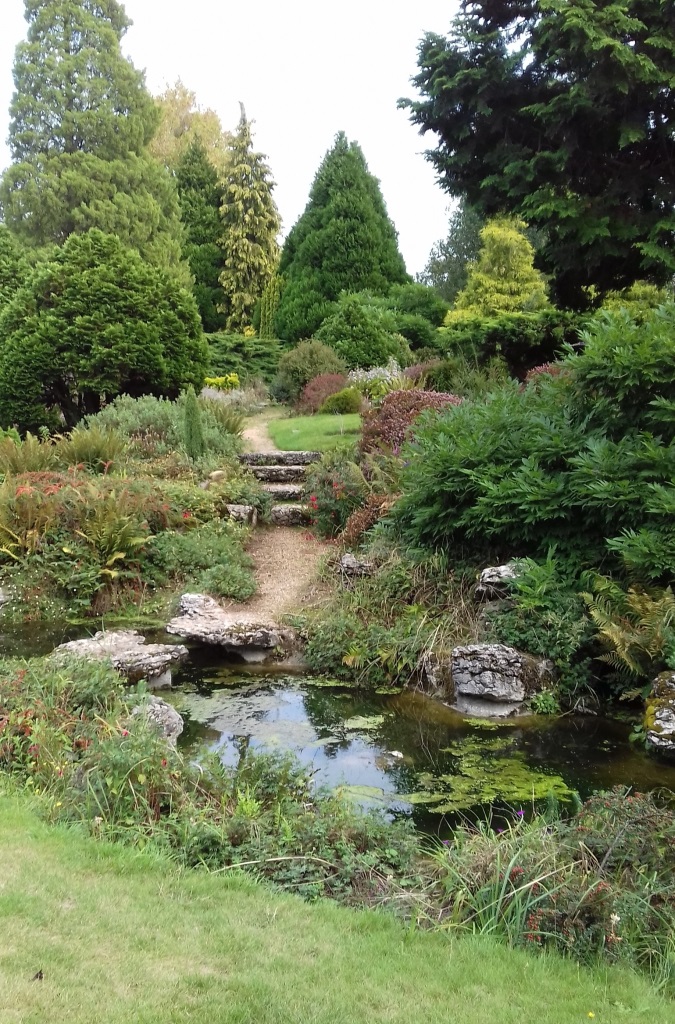 This is a square, sunken water garden surrounded on all four sides by a raised stone and timber pergola. To the north, paths lead through an extensive area of informal rock and water gardens overlooking lawns sloping down towards Stoke Park. South and west of the Colonnade Garden paths pass through a grassed area planted up with flowering trees and shrubs set in lawns, and leading to a circular rose garden to the south. East of here are more informal plantings, including a magnificent 600-year-old oak tree.
There are 500 gated family gardens, individually designed by Edward White to represent a 'home-coming', and in which are interred the ashes of some well-known people. One of the larger gardens memorialises the Gurkha Rifles. In addition there are over 3,000 individual plots. Although the main purpose of the Memorial Gardens is the interment of cremated remains, it is a vibrant and interesting place to visit, open all year round, with a wealth of history and many  activities on offer such as  guided walks, a butterfly day in August led by an expert, and an autumn 'fungus foray'. There are heritage open days and the gardens open twice a year with the National Gardens Scheme. An annual service of Thanksgiving takes place on the first Saturday in October.
How appropriate that one of our 'Unforgettable Gardens' should be Gardens of Remembrance.
Bibliography
Buckinghamshire Council, South Bucks area, 'History Of The Gardens' https://www.southbucks.gov.uk/about-the-gardens
English Heritage, 'Crematoria Designation: Register of Parks and Gardens Selection Guide, Landscapes of Remembrance', 2013
Historic England, 'Stoke Poges Gardens of Remembrance' https://historicengland.org.uk/listing/the-list/list-entry/1001255
Stoke Park Ltd, 'Estate History of Stoke Park' https://www.stokepark.com/history/estate-history-book.html
WA Truelove & Son Ltd, 'The history of cremations in the UK' https://www.watltd.co.uk/the-history-of-cremations-in-the-uk/
Clare Butler