25th Anniversary Desk Calendar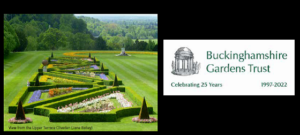 Special Promotion: Looking for a small gift for friends, neighbours for the New Year,  then we have the answer. This year we have had published a Desk Calendar, now £3.00. The photographs have been taken by members and celebrate the "Unforgettable Gardens" in Buckinghamshire. The calendar comes with an envelope and can be posted to friends and relatives for the price of a large envelope stamp 96pence. Orders can be posted with one p.p. calendar cost £1.00, 2 calendars £1.50. Payments via BAC's. cheques etc.
Please contact Gwen Miles: telephone 01844 345230 newsletter@bucksgardenstrust.org.uk
Celebrating 25 Years 2021-2022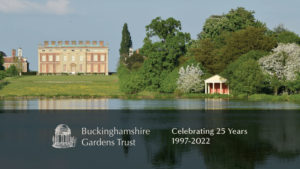 Claire de Carle and her 25th Anniversary team are putting together a very exciting events timetable for 2022 to celebrate the 25th Anniversary of the Trust. It includes a series of walks, visits to 'Unforgettable Gardens' and a celebration at one of Buckinghamshire's outstanding properties.
The programme will be published in February 2022 with the Spring Newsletter. So do get your diary out and book through  www.ticketsource.co.uk/buckinghamshire-gardens-trust
Any difficulties please contact Rosemary Jury through: enquiries@bucksgardenstust.org.uk