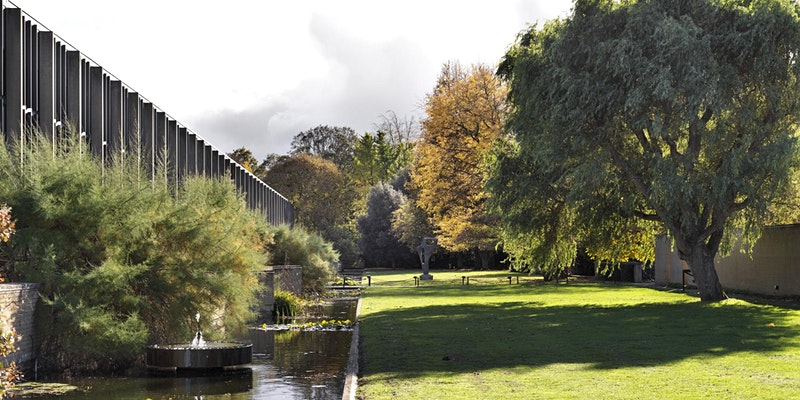 Spring Lecture Series 2020/21
Organised  by The Gardens Trust and The London Gardens Trust
11 January: Biodiversity & the Wild West End Project: Encouraging Birds, Bees & Bats into the Heart of London – Tom Gray, Senior Ecological Consultant, Arup
25 January: The Integration of Derek Jarman's Garden – Professor Michael Charlesworth, University of Texas.
8 February: Too Young to be Loved? Post-war designed landscapes of London and environs– Karen Fitzsimon CMLI, landscape architect and garden historian
22 February: Transatlantic slavery's long reach: The impacts of direct and indirect slavery connections on eighteenth century estate gardens and parks – Professor Susanne Seymour, University of Nottingham
8 March: Dinosaurs, Italian Terraces and Future Sustainability: Crystal Palace Park – Kathryn Whitmore, Associate Landscape Architect, and others.22 March: What is Wild? – Dr Kim Wilkie, Landscape Architect
All lectures will be delivered by Zoom
Tickets: £4 for Gardens Trust/all County Gardens Trusts members,
£6 for non-members; season tickets £40/£60
Booking: via The Gardens Trust website: http://www.thegardenstrust.org
……………………………………………………………………………………………………………………….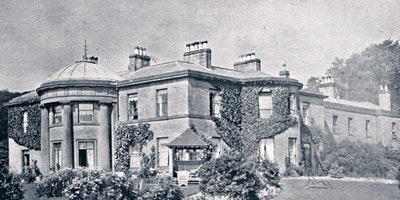 York Gardens Trust with TGT present a talk in the Series of 4 Lectures:
Man. Myth and Mountains:Reginald Farrer (1880-1920)
Northamptonshire Gardens Trust in assoc. with TGT presents a 4-part lecture series:
Celebrating some Unforgettable Gardens of Northants:
4 weekly online talks, Wednesdays @ 7 starting January 6th, £5 each or all 4 for £16.
This ticket is for the entire course of 4 sessions or you may purchase a ticket for individual sessions via the links below.
Attendees will be sent a Zoom link 2 days prior to the start of each talk (If you do not receive this link please contact us), and a link to the recorded session will be sent shortly after each session and will be available for 1 week.
Northants is blessed with many wonderful heritage gardens and landscapes, and Northamptonshire Gardens Trust have kindly agreed to share with us 4 of their Unforgettable Gardens to brighten up our January .
6th Jan Lyveden New Build: David Marsh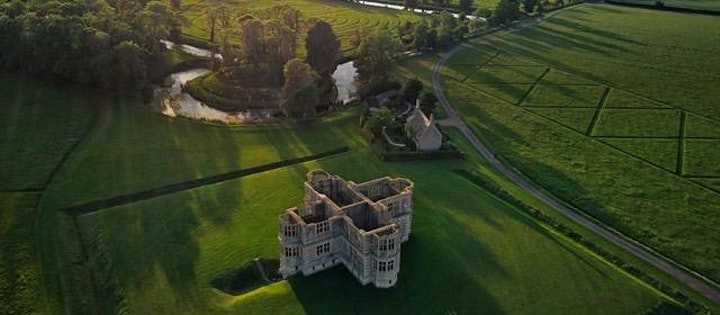 Lyveden is the creation of Sir Thomas Tresham, a devout Catholic who spent much of his later life in the Tower for his faith. It is, as the National Trust says, "a poignant and dramatic example of one man standing up for his beliefs in dangerous times, through an act of quiet and creative rebellion" Left unfinished on his death in 1605 the roofless lodge and its elaborate water gardens were not just meant to be beautiful but deeply spiritual and symbolic of his beliefs. Rightly listed at Grade 1, Lyveden is the most significant surviving garden of its era and definitely a good candidate to the first in this year's lectures about Unforgettable Gardens.
13th Jan: Coton Manor and Colour in the Garden: Susie Paysley-Tyler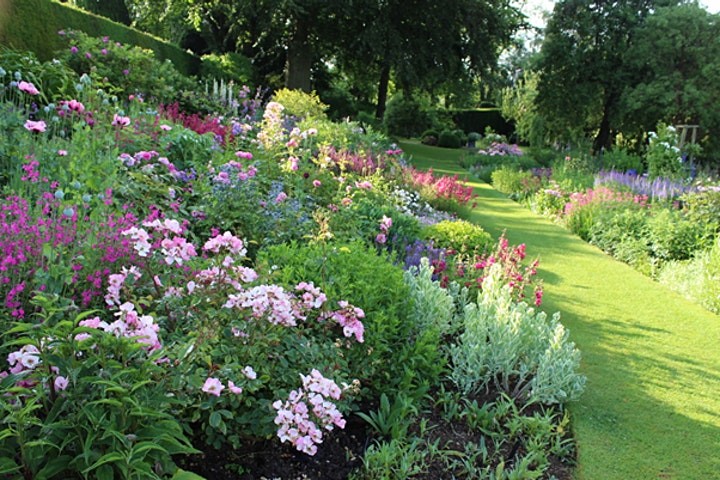 The garden at Coton Manor was created nearly a hundred years ago by Susie's husband's grandparents and following the previous two generations, they have been living and gardening here for the last thirty years. She says: 'We inherited a mature garden with wonderful trees, hedges, views, natural water and imaginative planting. The layout of the garden on a downward slope lends itself to many different and varied aspects. Over many years of trial and error I have taken advantage of this by using different plants and colours to evoke a change of mood or atmosphere as one moves through the various parts of the garden. I am particularly interested in colour, but it only becomes successful when other dimensions such as structure, texture, flower timing and of course plant selection are given equal weight. So my talk will centre on how I perceive the value of colour in the garden'.
20th Jan: Burghley Walled Garden: Joe Whitehead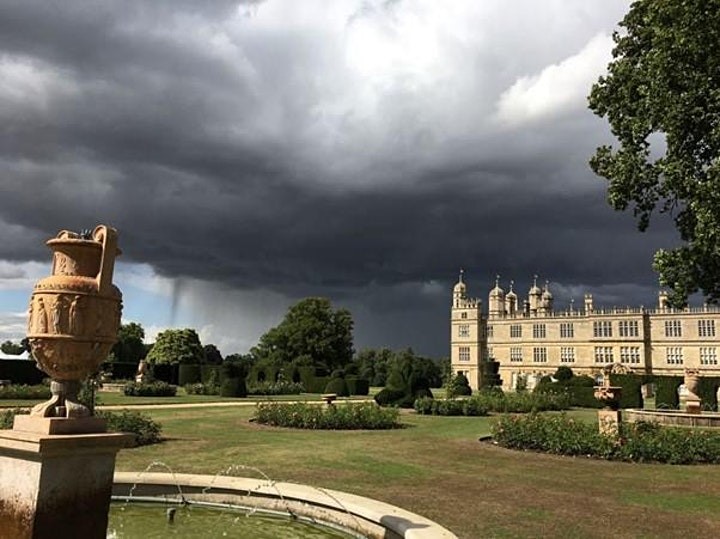 Gardening figures highly in Joe's family and he's the third generation to follow the path into this most wonderful career. He tells us: 'Obsessive compulsive walled kitchen gardening! There is no cure thankfully! Over the last few decades I've also been lucky enough to be able to indulge my passion for walled gardens and here at Burghley we are about to again breathe life into another lost world hidden behind high walls'.
Joe trained at RHS Wisley and during his career has worked at Burghley House, Salle Park, Raveningham Hall and Blatherwycke Park where he brought the walled garden back to life. He has now returned to Burghley House as Head Gardener, where the walled kitchen garden is actually sited in Northamptonshire.
27th Jan: Deene Park, A family's park and garden for five hundred years: Charlotte Brudenell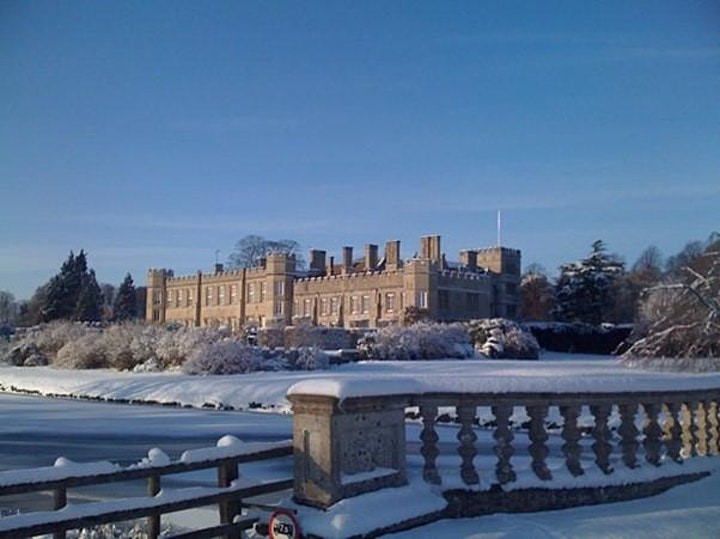 Charlotte will talk to us about the history and development of her family's treasured landscape, Deene Park. The Brudenell family have lived there in continued succession since 1514 and Deene Park is lucky to have a host of maps that display how the gardens have evolved since then. Charlotte will focus on some of the more well documented stages showing how the gardens have reflected the house and its place in history over the past five centuries. Much work was carried out in the 20th century after the ravages of the World Wars and the subsequent requisitioning. More gardens have evolved in the 21st century leading to the Head Gardener's plea of 'Please not another one'!
………………………………………………………………………………………………………………………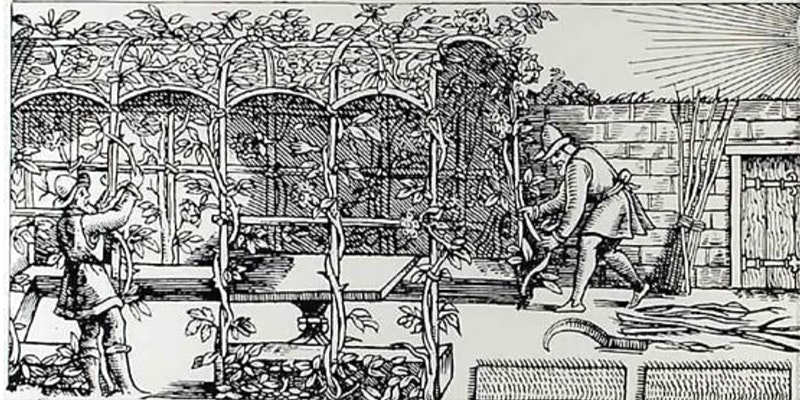 Tudor Gardens
An 8-part online lecture series, once a week on Thursday mornings at 10 am with Jill Francis & David Marsh, starting Jan 7th. Tickets £40.
About this Event
This ticket is for the entire course of 8 sessions. https://eventbrite.co.uk/e/the-tudor-garden-tickets-131075433149

Attendees will be sent a Zoom link 2 days prior to the start of the first talk, which will be the same link throughout (If you do not receive this link please contact us), and a link to the recorded session will be sent shortly after each session and will be available for 1 week.
Provisional outline programme (each talk will be approximately 1 hour, with additional time allowed for Q & A afterwards):
Jan 7th: Introduction: Evidence, Ideas & Symbolism -Jill & David
Jan 14th: Tudor Royal and Elite Gardens – David
Jan 21st: Tudor Gardening Books – Jill
Jan 28th: What was in the Tudor Garden – David
Feb 4th: The Growing Obsession with Gardening – David
Feb 11th: The Tudor Gardener – Jill
Feb 18th: The Tudor Garden as a seat of hospitality – Jill
Feb 25th: The Tudor Gardens in Literature and Art – Jill & David

Jill Francis is an early modern historian, specialising in gardens and gardening in the late-sixteenth and early-seventeenth centuries. She teaches history at the University of Birmingham and the University of Worcester and contributes to the MA programme on West Midlands History at Birmingham. She is an occasional lecturer on the IHR Garden and Landscape History programme and is becoming increasing involved with the Gardens' Trust online provision. She also works at the Shakespeare Institute Library in Stratford-upon-Avon. Her first book, Gardens and Gardening in Early Modern England and Wales, was published by Yale University Press in June 2018.
After a career as a head teacher in Inner London, David Marsh took very early retirement (the best thing he ever did) and returned to education on his own account and did an MA and then a PhD in garden history. Now he lectures on garden history anywhere that will listen to him and helps organize the Garden History Seminar at London University's Institute of Historical Research. He is co-chair of the Education and Events Committee of The Gardens Trust, for whom he organises courses and writes a weekly garden history blog which you can find at The Gardens Trust Blog .