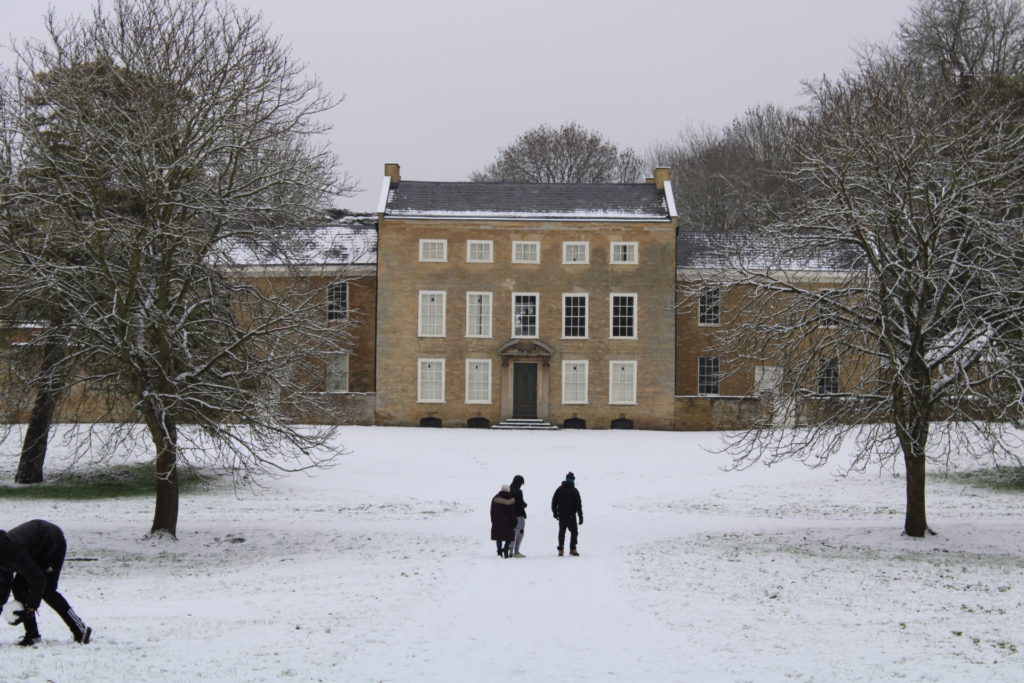 Image: Great Linford Manor looking beautiful in the January snow.  Parks Trust
The National Lottery Heritage Fund project at Great Linford Manor Park is progressing well despite Covid-19 restrictions. The Water Garden and pond dredging works have now been completed and the silt is drying out around the edges ready to be spread across the site. Read our latest blog to discover what's been happening at the ponds. In the spring, works will commence to restore the historic walls of the Water Gardens using the local Blisworth limestone. We'll also be rebuilding the cascade structure and restoring the Hine Spring so water can flow between the ponds again.
Elsewhere in the park we've created an occasional-use car park with a reinforced grass surface which will back onto a new wildflower meadow.
Also, in the spring we'll be commencing works to reinterpret the Doric Seat, an 18th century folly which was lost in the 1980s. We'll be rebuilding the base to knee height to provide a seating and storytelling area. We'll also be removing some trees from along the edges of the canal. These are self-seeded and have grown up in the time since the canal was cut in 1800. By removing the trees we'll give the impression of what the view might have been like from the Doric Seat in the 18th century. Watch our video to find out more about the Doric Seat.
We're hoping to deliver an exciting events programme this year if restrictions allow. You can find details of planned events on our website.
Ellie Broad – Community Engagement and Activity Coordinator for The Parks Trust's Great Linford Project.                     The Parks Trust is a Societies/Organisation Member of the Buckinghamshire Gardens Trust.