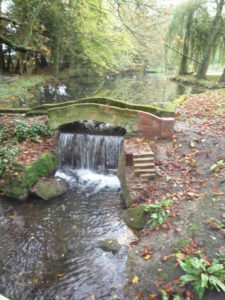 Tickets are now available for the Gardens Trust's annual Historic Landscapes Assembly, which will be taking place online, during three 'Assembly Afternoons' on 15th, 17th and 19th November. We have a fantastic line-up, with speakers from the GT, county gardens trusts and from national organisations across the historic landscapes sector.
The Assembly is a not-to-be-missed forum for anyone – volunteer, researcher, owner or professional – with an interest in the history, enjoyment and conservation of our fantastic historic parks, gardens and other designed landscapes.
Tickets, which cover all three sessions, are free for Garden Trust and County Gardens Trust members (this includes Buckinghamshire) and only £5 for non-members.
Programme
Monday 15th November, 1.30-3.00pm
• Welcome and Introduction from the Gardens Trust, Peter Hughes QC, Chair, and Tamsin McMillan, Volunteer Support Officer
• Update from the Gardens Trust's 'Unforgettable Gardens' campaign 2020-2023, Linden Groves, Strategic Development Officer, and Sally Bate, Volunteer Support Officer
• Update from the National Trust, Andy Jasper, National Head of Gardens and Parklands
Wednesday 17th November, 1.30-3.00pm
• Update from Historic England, Jenifer White, National Landscape Adviser
• Conservation Cases Round-up from the Gardens Trust Conservation Team
• 'Supporting the Local Heritage List project' Barbara Moth, Cheshire Gardens Trust
Friday 19th November, 1.30-3.00pm
•'Understanding and protecting 20th century designed landscapes', Annabel Downs, Landscape Architect
• 'Fifty Fabulous Features: Building Foundations for Garden History in Thurrock', Twigs Way, Research Consultant in Designed Landscape
• Update from the Parks Management Association, Paul Rabbitts, Head of Parks, Heritage and Culture, Watford Borough Council
Tickets (which cover all three days): Free for Gardens Trust or County Gardens Trust Members, £5 each for Non-Members. Please indicate on your order form which days you will be attending.
Please follow the link to find out more or book a place:
https://www.eventbrite.co.uk/e/the-gardens-trusts-historic-landscapes-assembly-tickets-192286412837