Organiser of Forgotten Women Gardeners
The Gardens Trust is the UK national charity dedicated to working with the national network of County Garden Trusts in protecting our heritage of designed gardens and landscapes. Buckinghamshire Gardens Trust, as a County Garden Trust, campaign on its behalf, undertake research and conservation work, train volunteers and encourage public appreciation and involvement. We are delighted that Claire de Carle, our Chair, is involved in this series on "Forgotten Women Gardeners" giving a talk on Maud Grieve on the 17th May. Do book.
About this event
Following the success of our last two series on forgotten women gardeners we're delighted to be introducing you to 4 more unsung heroines.
Week 1. 3 May: From Gardens to Landscape, Woodbines to Woods: Women at Wrest in a Changing World: Jemima Marchioness Grey and Amabel Hume-Campbell, Countess de Grey of Wrest Park with Twigs Way
Wrest Park is well known for its long association with powerful female garden creators from Lady Elizabeth Talbot (1581-1651) and the 'Good Countess' Amabel (1607-98), through to the arrival of the Land Army in the walled garden in the 20th century. This talk will contrast the lives and contributions of two of the most influential women on the surviving landscape at Wrest: Jemima Marchioness Grey (1723-97) and Amabel Yorke, Countess de Grey (1751-1833). Their cultural influences and economic contexts provide a dramatic contrast from Jemima's intellectual rurality within the milieu of Chinoiserie and classical understanding, to the harsher economic realities and political backdrop of enclosure and war experienced by Amabel. We will use their letters and diaries to explore one designed landscape through their two very different lives.
Twigs Way is a garden historian, writer and researcher. Twigs' talks and books reflect themes of symbolism and meaning, class and gender, art and literature, and her desire to follow unknown paths towards the unexpected. Twigs has a specific interest in the roles of women in and out of the garden, which was the topic of her first book and a particular interest in the women of Wrest Park. Twigs is an accredited Arts Society lecturer and her history of the Chrysanthemum in art and culture was published by Reaktion in 2020. She is currently (not quite) working on the equally golden daffodil.
Image: detail, Portrait of the Ladies Amabel and Mary Jemima Yorke by Joshua Reynolds, c. 1761 © Cleveland Museum of Art.
…..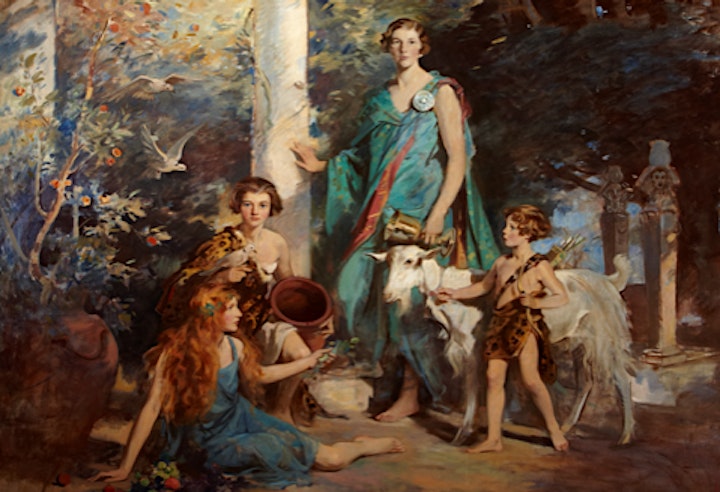 Week 2. 10 May: Circe's Garden – Edith, Lady Londonderry's Garden at Mount Stewart with Neil Porteus
Edith, Lady Londonderry (1878-1959). Visionary garden designer, suffragist and society hostess, Edith Vane-Tempest-Stewart, Lady Londonderry, created one of the most original gardens of the 20th century at Mount Stewart, in County Down, Northern Ireland. After the First World War and in her 40s, Edith channeled her energies into the garden, filling it with rich symbolism inspired by her Celtic upbringing and Greek myths. She amassed an unrivalled collection of rare and tender plants, taking advantage of the mild climate of Strangford Lough and experimented with bold planting schemes. She even famously turned down Gertrude Jekyll's proposals for the garden in favour of her own. The talk will have new research and information on what is one of the most enchanting gardens in the world.
Neil Porteus has been a head gardener since 1990, he took a voluntary redundancy from the National Trust in December 2020 and works as a garden consultant in Ireland and Northern Ireland. He also propagates a lot of plants from home which are hard to come by now in the horticultural trade. Neil has a BSc Hons in Horticulture and an MA in Garden History.
Image: detail, Circe and the Sirens, 1925, Edmund Brock, © National Trust.
…..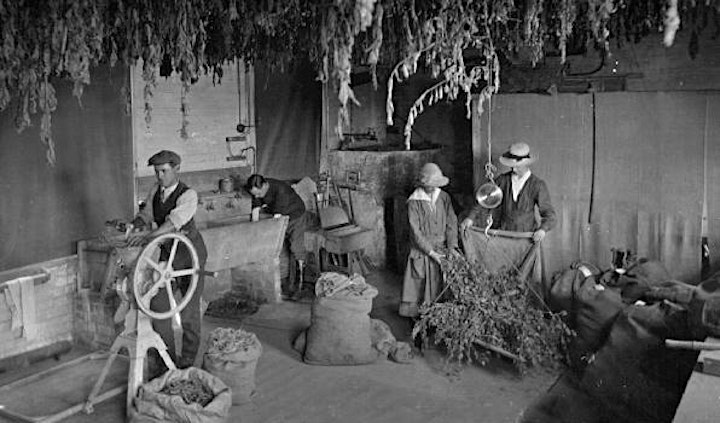 Week 3. 17 May: 'Now let me tell you about that wonderful plant': Maud Grieve The inspirational herbalist, writer, teacher, and gardener with Claire de Carle
Maud Grieve was born in London in 1858. She spent her early married life in India, on their return at the end of the 19th century the couple built a house, The Whin's in Chalfont St Peter where Maud established a beautiful garden. At the outbreak of World War One she transformed her garden into a herb farm to meet the urgent need for medicinal plants by the pharmaceutical industry. She was also involved in setting up the 'Herb Growing Association'. She supplied plants and seeds and pamphlets on their cultivation and established a training school for women and ex-servicemen from the colonies. In 1918 she let out her drying shed to the war artists Paul and John Nash where they accomplished some of their finest war commissions. Maud is probably best remembered for her book The Modern Herbal, which was published in 1931, is still relevant today.
Claire de Carle is the chair and a trustee of Buckinghamshire Gardens Trust which is celebrating its 25th anniversary in 2022. She was instrumental in the establishment of the Trust's Research & Recording project in 2013 which has produced reports on around 100 locally important historic gardens. She enjoys researching and writing about little known historic landscape gardens and more recently she has set up two other projects: Artists and their Gardens and Public Parks in Buckinghamshire. She lectures to local groups about Buckinghamshire gardens and Maud Grieve, the herbalist who was the subject of her MA dissertation. Claire lives in Oakley a small village on the Bucks/Oxon border, in her spare time she works on her garden that she and her husband have created over the last seven years.
…..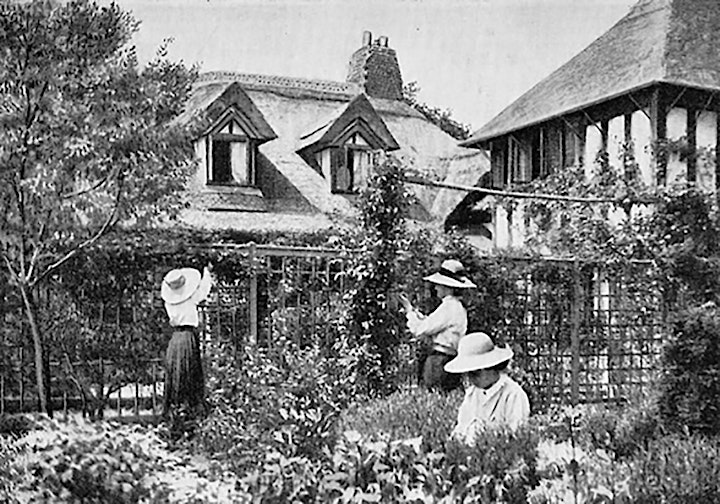 Week 4. 24 May: A Gardening Philanthropist Lady Henry Somerset, (1851-1921) with Leanne Newman
The late nineteenth century is considered to be the golden age of British women's philanthropy and an equally golden age of gardening. This talk will explore how and why some women incorporated gardening into their philanthropic agency. We will focus on Lady Henry Somerset and her use of gardens to rehabilitate women suffering from substance abuse, as seen in her work Beauty for Ashes published in 1899.
Leanne Newman has an MA in Garden and Landscape History and is a PhD candidate at the University of Southampton researching the use of gardening and landscape by women philanthropists in the period 1880-1920
Date and time
Tue, 3 May 2022
10:00 – 11:30 BST
Location